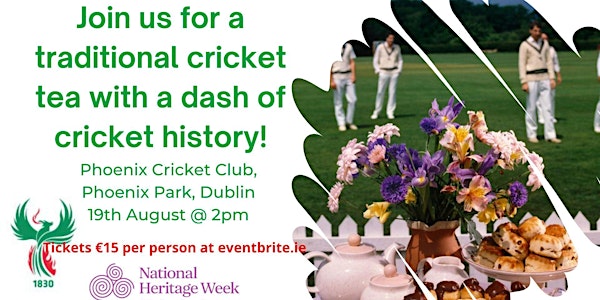 Heritage Week - Traditional cricket tea with a dash of history
Join us for a delicious cricket tea and some great cricket history on Friday 19th August at our lovely Victorian pavilion in Phoenix Park
When and where
Location
Phoenix Cricket Club Camogie Road Off Chesterfield Avenue, Phoenix Park Dublin Ireland
About this event
Phoenix Cricket Club, is the oldest sporting club in Ireland. We were founded in 1830 and in the intervening 192 years we have had many interesting characters as members, great sporting achievements and monumental wins.
Our pavilion and grounds is a character in its own right. It is a picturesque Victorian pavilion with a clock tower nestled among the trees just off Chesterfield Avenue.
There's nothing that says summer like the sound of a ball on willow bat and as long as the game has been played there has always been a break for scalding tea, sandwiches (preferably some cucumber) and fancy buns. So join us on Friday 19th August at 2pm, for a traditional cricket tea with a dash of history hosted by John Mullins, a former president of the club and great story teller.