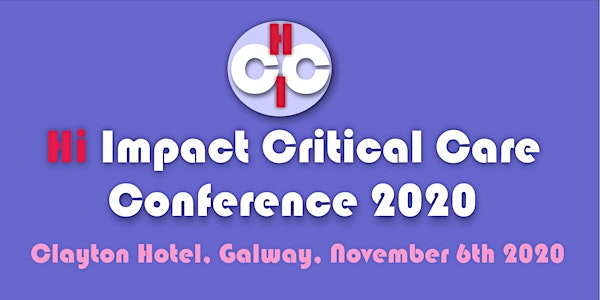 Hi Impact Critical Care 2020
Hi Impact Critical Care 2020 will examine topics in areas of nephrology and metabolic disorders.
When and where
Location
Clayton Hotel Galway Ballybrit H91 D526 Galway Ireland
Refund Policy
Contact the organiser to request a refund.
About this event
High Impact Critical Care Conference – 4.0Provisional Programme
Metabolic and Renal Critical Care
November 6th 2020 Clayton Hotel Galway, Ireland
Strictly Limited Tickets - Early Bird Rate Now Available
MORNING SESSION
07.00 Registration opens – Coffee/ Tea Available
07.30 – 09.00 Workshop (fully interactive session.) Pre-Conference Workshop
Part 1: How to Read a Blood Gas
Part 2: Common problems encountered during continuous renal replacement therapy - and how to fix them.
09.00 Short Coffee Break
Session 1 Urinary Tract Infections (Saolta Sepsis session)
09.15-09.40 Common UTIs and Critical Illness
09.40-10.00 Weird Kidney Infections
Coffee
Session 2: Acute Kidney Injury (HI Impact)
10.30 – 10.45 The serum creatinine is no longer fit for purpose (biomarkers)
10.45 – 11.00 Start a furosemide infusion now!
11.00 – 11.15 Pro: We Should Be Administering CRRT Early
11.15 - 11.30 Con: We Should Delay Administering CRRT
Short Break
Session 3 Advances in Acute Kidney Injury & Renal Replacement Therapy
11.45- 12.30 Acute Kidney Injury in Critical Illness (including sepsis)
12.30- 13.00 Standards and Advances in Renal Replacement Therapy
LUNCH (Included in registration)
AFTERNOON SESSION
Session 4: Galway Soapbox (Hi Impact)
Hang around to hear the afternoon rants!
14.15 -14.30 High Lactate - no acidosis!
14.30 -14.45 Ketoacidosis is more common than you think
15.00—15.15 The pH is <7 - should I give sodium bicarbonate? What else can I do?
15.15 – 15.30 Why does nobody understand metabolism in critical illness?
15.30 – 15.45 Chloride – is it harmful or is it a myth?
16.00 - Finish