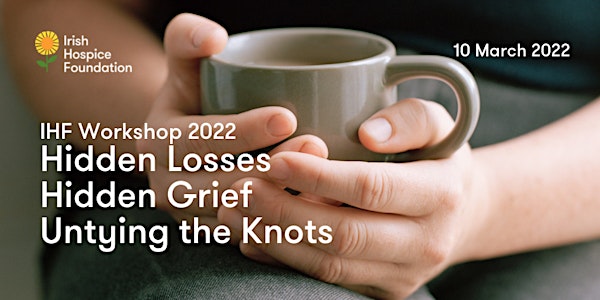 Hidden Losses - Hidden Grief, Untying the Knots
The workshop will look at different types of losses, how they can become hidden, & what can help those who are dealing with these situations
Refund Policy
Refunds up to 7 days before event
About this event
Description
The practical and emotional support of friends, colleagues and family are key elements in helping people to come to terms with their losses. What happens though, when this support may not be available because the loss (e.g. dementia, adoption, abuse, abortion, suicide) may be less acceptable to society than other losses (e.g. death of a family member)? Hidden losses are those that we cannot openly acknowledge, publicly mourn or get social support for. This workshop will look at different types of losses, how they can become hidden, and what can help those who are dealing with these situations.
Learning Outcomes
On completion of the workshop participants will be able to:
• understand the dynamics of grief and how some losses can become hidden
• recognise hidden grief
• understand different aspects of hidden grief and how they affect people
• understand what kind of supports can help with hidden grief
Presenter Profile
Breffni McGuinness is the National Bereavement Development Specialist for Workplaces with the Irish Hospice Foundation. His special interests are in workplace bereavement, hidden losses and the use of creativity in working with people who are grieving. He has published a number of articles on bereavement and has developed resources for workplaces on bereavement policies and supporting staff who are bereaved. He is a Dramatherapist and member of the Irish Association of Creative Arts Therapists (IACAT).