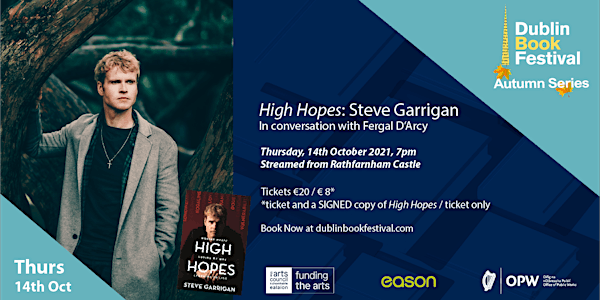 High Hopes: Steve Garrigan in conversation with Fergal D'Arcy
'I'm very excited and slightly nervous to be releasing this book. It's something I never thought I'd have the courage to do'
Refund Policy
Contact the organiser to request a refund.
About this event
'I'm very excited and slightly nervous to be releasing this book. It's something I never thought I'd have the courage to do but I'm glad I did. It touches on my experience growing up with anxiety issues, escaping into music, song writing and touring the world. I hope you guys enjoy my story.'
– Steve Garrigan of Kodaline
Join Dublin Book Festival for an evening of conversation and music with Kodaline's lead singer, Steve Garrigan to celebrate the release of his deeply personal memoir, High Hopes (Hachette Ireland). Radio producer and presenter Fergal D'Arcy joins Garrigan in the fantastic surrounds of Rathfarnham Castle to talk about the joys of music, his experience growing up in Dublin, and how he overcame anxiety, depression and panic attacks to succeed as lead singer of the hugely successful band Kodaline. Steve will also treat viewers to performances of some of his songs.
Tickets priced €20 and over include a SIGNED copy of High Hopes delivered to your door.
Ticket prices vary depending on your shipping address. Please take note of your ticket options before purchasing. High Hopes is released on 7th October 2021 and all orders will be shipped on release day. Unfortunately, we cannot guarantee its arrival before the event for international customers.
This Event is pre-recorded at Rathfarnham Castle, Dublin.
In partnership with Eason.