High Performance Computing SME Accelerator Open Call - Free Support
High Performance Computing SME Accelerator Open Call - Free Support
About this Event
Are you an SME which could benefit from HPC, Data Analytics & AI? Could support from the Irish Centre for High-End Computing advance your business and solutions? As part of the EuroCC_Ireland Competence Centre and @EuroCC project, ICHEC is hosting a Webinar on 7th April for SMEs seeking support in HPC, Data Analytics & AI to highlight the benefits of getting involved including introducing the successful organisations for phase one and details of how you can get involved for phase two.
Four companies across a range of domains and technologies have been selected for the pilot programme of the EuroCC SME Accelerator at ICHEC.
Ubotica (AI in Space)
Telenostic (AI/Data Analytics in AgriTech)
Nuritas (Quantum Computing in Genomics)
Evercam (AI/Machine Vision in Construction)

All 4 companies will develop a technical solutions model over a six month period with assistance from the EuroCC SME Accelerator.
Agenda for the Day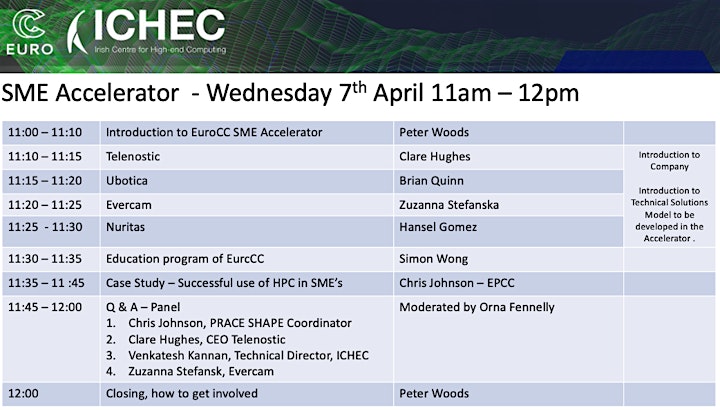 What is the SME Accelerator?
The SME Accelerator will allow SMEs to co-locate existing staff with the EuroCC over a period of up to 6 months, allowing access to HPC technical skills and infrastructure.
The awarded businesses' staff will be assisted to produce a technical solution model aimed at the optimisation of either an existing business process and modelling, or the development of new business processes and modelling. The assistance provide by the EuroCC will take the form of
One-to-one mentoring with highly skilled HPC staff employed in the EuroCC. A set number of hours will be allocated to each SME based on their technical solution model. It is expected that the SME will provide staff for at least the same amount of hours.
Access to HPC training. This will included either participation in one of a number of regular HPC training courses offered by EuroCC and ICHEC or tailored training courses relevant to an awarded businesses own technical solution model and HPC skills level.
Access to supercomputing infrastructure as well as, if necessary, a defined pathway to migrate from the national Tier-1 system to EuroHPC Tier-0 supercomputers
SME Accelerator - Objectives
Increase the innovation potential of industry, and in particular of small and medium sized enterprises (SMEs), through the use of advanced HPC infrastructures, applications and services.
Facilitate access to HPC-based infrastructures and services for a wide range of users of new and emerging data and compute-intensive applications and services.
Foster wider innovation, for example by exchanging and promoting best practice use cases or application experiences amongst accelerator participants.
Provide an effective mechanism for inclusion of innovative, agile SMEs lowering the barriers for small actors to enter the market and exploit new business opportunities.