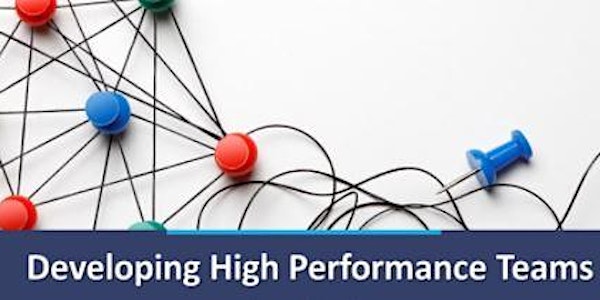 High Performance Teams (Managers and Participants in Unlock Potential)
Sales Have Ended
Registrations are closed
Thank you for registering for this Master Class You will be provided with a zoom link closer to the time of the event. If you have any questions please email staffdev@tcd.ie Thank you
Developing High Performance Teams. For Managers and Participants in the Unlock Potential programme
About this event
For TCD Managers and all staff Participants in the Unlocking Potential programme
Developing High Performance Teams
In this workshop we will look to examples of high performance situations (eg. ISS team, elite athletes, emergency responders.) to learn what High Performing Teams do well.
We will use tools that help high performing teams succeed like seeking and responding to feedback, aligning vision and values and providing individualised support to individual contributors.
Developing teams is a vital part of delivering workplace outputs. The more we know how strong teams meet, communicate and perform the more we are in a position to learn and model those results.
After you register you will be sent a calendar invite with a Zoom link so you can access the training online. If you have any questions email staffdev@tcd.ie
Speaker: Jess Hayden
Jess is an organisational psychologist with an insatiable curiosity for helping people solve problems at work. She's felt very lucky and privileged to have been able to follow her curiosity throughout her professional life and this has lead to a certain mastery of the career u-turn over many years and many changes. She's done consulting in a large professional services firm, worked on organisational design in several Irish NGOs, set up a learning function in a tech startup in Berlin and developed academic programmes in Universities. The one u-turn that's held her curiosity for the longest has been setting up a business with Lucy to bring a unique brand of learning, innovation and strategy consulting to their clients across the globe. Jess loves working with and admires people who are attempting something that's never been done before and how she can help them have their best chance of success.
Jess has a BA in Psychology and an MSc in Organisational Psychology which gives her a strong evidence-base to work with in terms of understanding humans at work. She continues to follow her research interests in behavioural neuropsychology, creative thinking, high-pressure decision making and problem-solving.
Data Protection legislation safeguards the privacy rights of individuals in relation to the processing of personal data. The Data Protection Act 1988 and the Data Protection (Amendment) 2003. The data collected is being sought by the University and will only be used for the stated purposes.