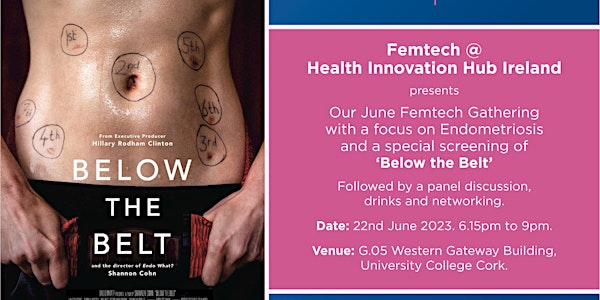 HIHI Femtech event - Below The Belt
HIHI are screening the movie "Below the belt" - a movie that tells the personal and inspiring stories of four women with endometriosis!
By Health Innovation Hub Ireland
Date and time
Thu, 22 Jun 2023 18:00 - 21:00 IST
Location
G.05, Western Gateway Building, UCC Western Road Cork Ireland
About this event
""Directed by Shannon Cohn and produced by Hillary Rodham Clinton. Below the Belt tells the personal and inspiring stories of four women urgently searching for answers to mysterious symptoms. Below the Belt exposes widespread problems in our healthcare system that disproportionately affect women. The film uses the lens of endometriosis, a disease that affects 1 in 9 women, and shows how women are often dismissed, discounted & disbelieved.
During the 10 years it takes to be diagnosed with endometriosis, women are often told that symptoms are in their head or part of being a woman. Due to outdated notions, they are then often treated with an array of ineffective drugs and surgeries and erroneously told that pregnancy and hysterectomy are cures. Nearly 50% of infertility cases are due to endometriosis and almost all are preventable".
Following the screening of "Below the Belt" , a panel of patients, innovator and clinicians will discuss the experiences of living endometriosis, the challenges of diagnosis and the wonderful innovations being designed.