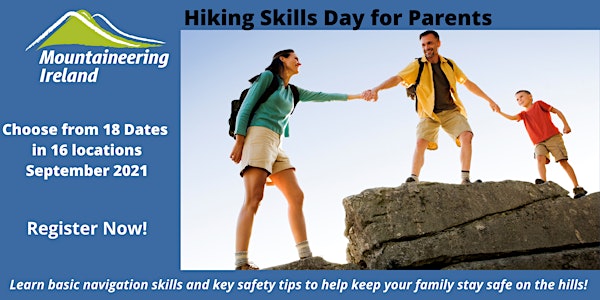 Hiking Skills for Parents
Learn basic navigation skills and key safety tips to help keep your family stay safe on the hills!
By Mountaineering Ireland
Refund Policy
Contact the organiser to request a refund.
About this event
Mountaineering Ireland are delighted to announce their Family Support Programme. This is a unique opportunity for parents to head out on the hills for a day with a qualified instructor and gain useful information and skills that will help keep them and their children safe.
Throughout the day you will learn about movement skills, basic navigation, equipment, safety considerations and family group management.
There are 18 skills days in 16 locations to choose from. Full details are available when registering.
Entry fee for each skill day is only €10. This is an adult only day aimed at one or both parents of children, this is to ensure parents have the opportunity to focus and engage with the navigational activities throughout the day and take away as much information as possible.
What gear do I need
Wear comfortable clothing like - leggings, tracksuit bottoms, breathable T-Shirt and fleece & an extra warm layer. Be ready for the rain and pack a rain jacket and rain trousers. A hat and gloves to keep you safe from the wind. Wear good sturdy walking shoes or hillwalking boots with woolly or synthetic socks. Have a backpack with water (minimum 1.5 litres, sandwiches and snacks, coffee, or tea. There is nothing more rewarding than a nice cup of coffee or tea drunk on top of the mountain. Don't forget to bring face mask and hand sanitiser, and first aid kit with plaster and bandages, personal medicine, inhaler, epipen etc.
In Addition: you can bring an OSI, Harvey or East West map of your local area and a compass if you have one. Bring a whistle but, hopefully, you won't get lost. Maps and compasses might be supplied by the instructor. Have your phone fully charged.
#happyhiking
Disclaimer: Mountaineering Ireland recognises that climbing, hillwalking and mountaineering are activities with a danger of personal injury or death. Participants in these activities should be aware of and accept these risks and be responsible for their own actions and involvement.
About the organiser
Mountaineering Ireland is the representative body for walkers and climbers in Ireland. It is recognised as the National Governing Body for mountaineering, hillwalking, rambling and climbing by both the Sport Ireland and Sport Northern Ireland.