Description
A Dublin Decoded Tour: from Cork Hill - through Lord Edward St - Fishamble St – Copper Alley - Essex St - Parliament St and Crane Lane, to inside Thomas Read's Read's Cutlers, Dublin's oldest shop (a private visit):
On the late morning and early afternoon of Sunday, 07th April, we're thrilled to announce a second Dublin Decoded tour of the Cork Hill, Fishamble, Essex and Parliament Street area, culminating again in a rare private visit to the fabulously-restored interiors of Reads Cutlers at No. 4 Parliament Street.. This is Dublin's oldest shop, founded 1670.
the first part of our tour we'll explore Dublin's transition from a late medieval mass to early Modern (1600s) then to the splendour of the early Georgian period (1700s) - in and around this crucial epicentre of the old city, which was walled untll 1680s approx. We will see forgotten passaeways, hidden urban hedge schools, and learn of music, crime, charity, education, of architecture, poverty, wealth and power.
The later part of the tour features our private, interior visit inside Thomas Reads Cutlers, Dublin's oldest shop, now back from dereliction and the subject of an award-winning restoration, this features a talk and private tour from our host, proprietor and award-winning restorationist, Clem Kenny.
The premises is actually two buildings, one each on Crane Alley (from the 1600s) and Parliament Street (from the 1700s) These are linked by a stairwell. The buildings include: living accommodation, a basement workshop and a truly stunning 18th century shop interior, containing significant intact 18th and 19th century fixtures and fittings.
(The illustration above features the 18th Century shop interior, before the restoration)

Needless to say, this tour represents is a rare opportunity to visit these unique premises and learn first-hand about one of the most important surviving merchant houses in Britain or Ireland.
We're thrilled to make it available to friends and subscribers of Dublin Decoded, their friends and guests. We had a simlimar tour last January, but each tour is a one-off event. The premises may be sold by private treaty in the near future and we can't necessarily guarantee running this tour again. Each opportunity is a unique event.

Practicalities. Please read all the T&Cs and all the information below, prior to reserving tickets? Thank you.
When: Please meet your guide Arran, 11.25pm sharp, Sunday 7 th April, 2019.
Where: We meet outside the Dublin City Council Rates Office (the former Newcomen Bank, by Thomas Ivory). This stands opposite the west door of City Hall (formerly the Royal Exchange, by Thomas Cooley) on Cork Hill, Dublin 2. Please see (and you can expand) the map at the foot of this EventBrite ticket page, if you are unfamiliar with the lcation. Please note for example, we are not meeting in Bernardo's Square. (That lies on the far side of City Hall)

Ettiquette, and "walk-ups" The tour will meet around 11.25 outside Rates Office, to buy tickets or to present your pre-purchsed tickets. Presenting your tickets on the screen of a smart phone ios absolutley fine. (No need to print) It may be possible to buy tickets on the day, but only if a suplus remains. On the day "walk-up" tickets are strictly subject to availabilty. We are observing a guest-limit for this visit. Thank you for your understanding.

Duration: The tour is in two parts, a walk Cork Hill - through Lord Edward St - Fishamble St – Copper Alley - Essex St - Parliament St and Crane Lane, this part takes approx. 1 hour to - 1 hours 15 minutes, and will conclude around 12.30pm or 12.45pm (approx) on Parliament St. or Crane Lane. The second part of our tour is the private interior visit to within Thomas Reads. This takes place from 12.45 approx, and the talks and walk about - within Thomas Reads- take about 3-40 minutes, with guests then very welcome to walk around the premises, on all four floors, to take photograps and so forth. Both Clem and Arran will be there to field question and observations.

Terms, conditions, fees: As a unique one-off tour, with two seperate guides, tickets are priced a bit higher than usual as they include a contribution towards the private interior tour.
Tickets are strictly limited by number, as we are observing a guest-limit for this visit.
Please book as early as possible to avoid disappointment. But equally, please check your own diary, and your own availability before booking a spot. Unfortunately we will not be able to issue refunds after 8 days prior to tour (i.e. after 29/03/19)
You may book tickets by clicking the button on this page. Thank you.

We look forward to seeing you there, and welcoming you on tour.
Below: Clem Kenny's Thos Reed Restoration, first floor Int, view to front, Parliament St.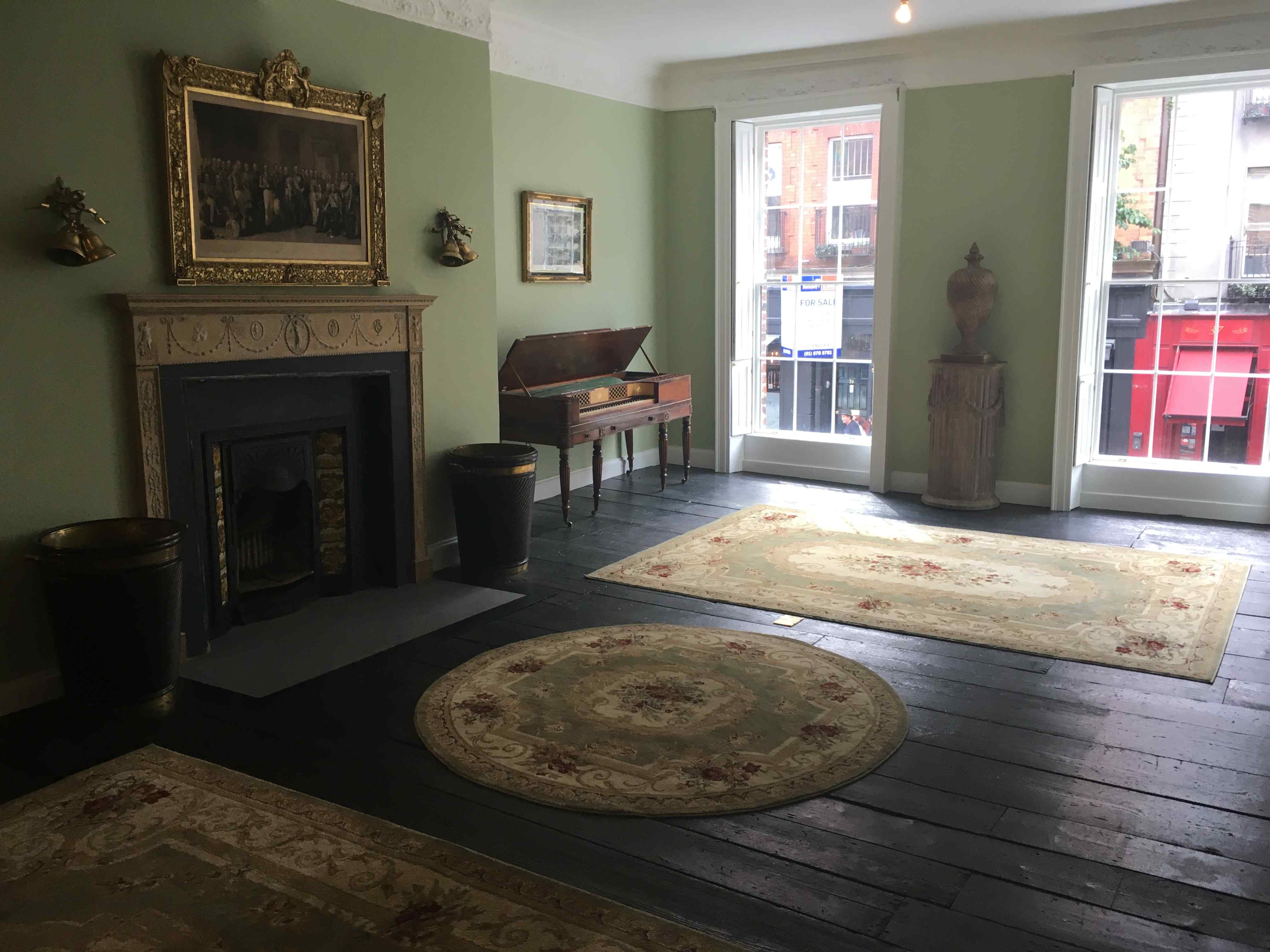 Save