Historic Ironwork Workshop & Seminar - Railings Conservation Project, Mount...
Sales Have Ended
Ticket sales have ended
Thank you for your booking. We look forward to seeing you on the day!
Sales Have Ended
Ticket sales have ended
Thank you for your booking. We look forward to seeing you on the day!
Description
Dublin Civic Trust and The Mountjoy Square Society are pleased to announce details of a one-day seminar and live demonstration workshop showcasing the ongoing repair and conservation of the historic wrought-iron railings of Mountjoy Square, Dublin 1.
The pioneering project, one of the largest of its kind ever undertaken in Ireland, is being led by Dublin City Council's Parks and Landscape Department as an action of its Mountjoy Square Conservation Plan – a study that was jointly commissioned with the Mountjoy Square Society in 2014.
Mountjoy Square

The wrought-iron railings of Mountjoy Square are the largest single ensemble of Georgian railings surviving within Dublin's canal ring, erected c.1803 by the Mountjoy Square Commissioners to enclose the square's central garden. The railings feature an axial arrangement of four centred entrance gates, a Leinster granite plinth wall and distinctive quadrant sweeps to the corners of the square - all originally mounted with a series of 84 'globe-iron' lamp standards,
Unlike other Dublin squares such as Merrion Square and St. Stephen's Green that were denuded of their original railings in the late 20th century, Mountjoy Square has retained all of its original ironwork – albeit now in a state of disrepair.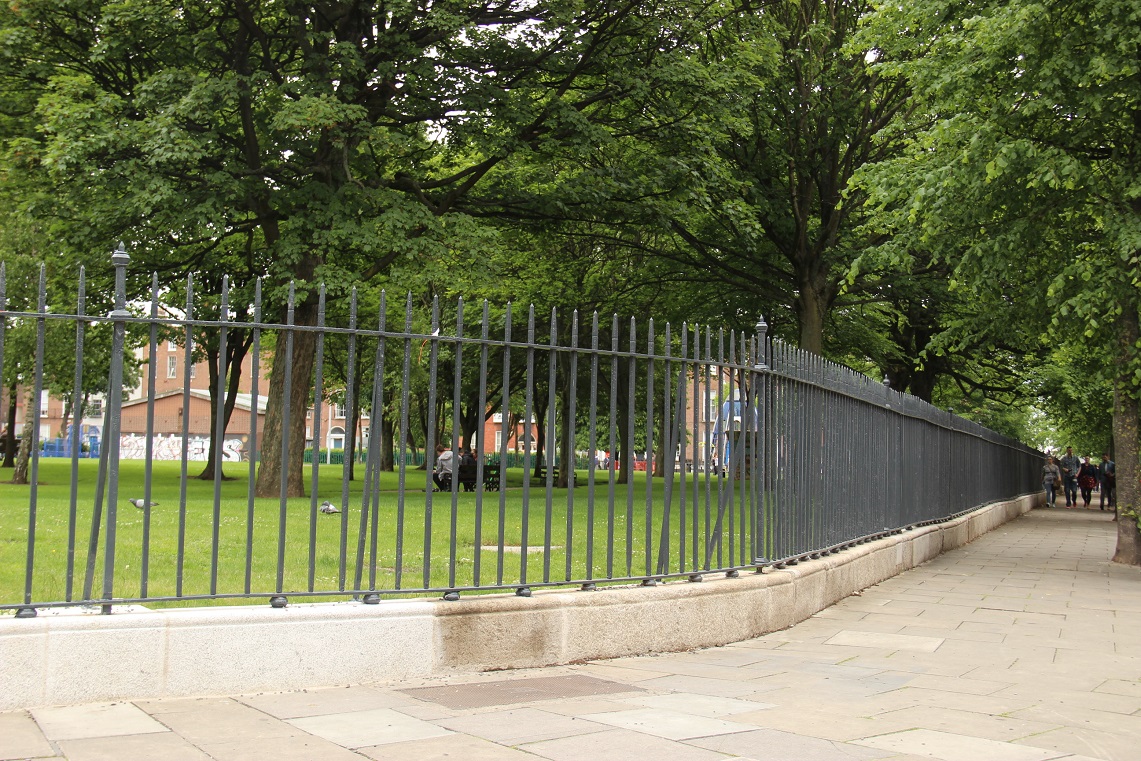 Newly restored section of railings

Under the direction of master blacksmith Paul Devlin and conservation stonework contractors Cairn Construction, with architectural input from Howley Hayes Architects, the railings are currently being systematically conserved to best practice standard – moving clockwise from the Gardiner Street side.
SEMINAR

This one-day seminar will provide a unique opportunity to showcase the breadth and quality of the works presently being undertaken. It will allow those involved in building conservation, period building maintenance, works specification and interested members of the public to learn at first hand from the works and the experienced contractors involved.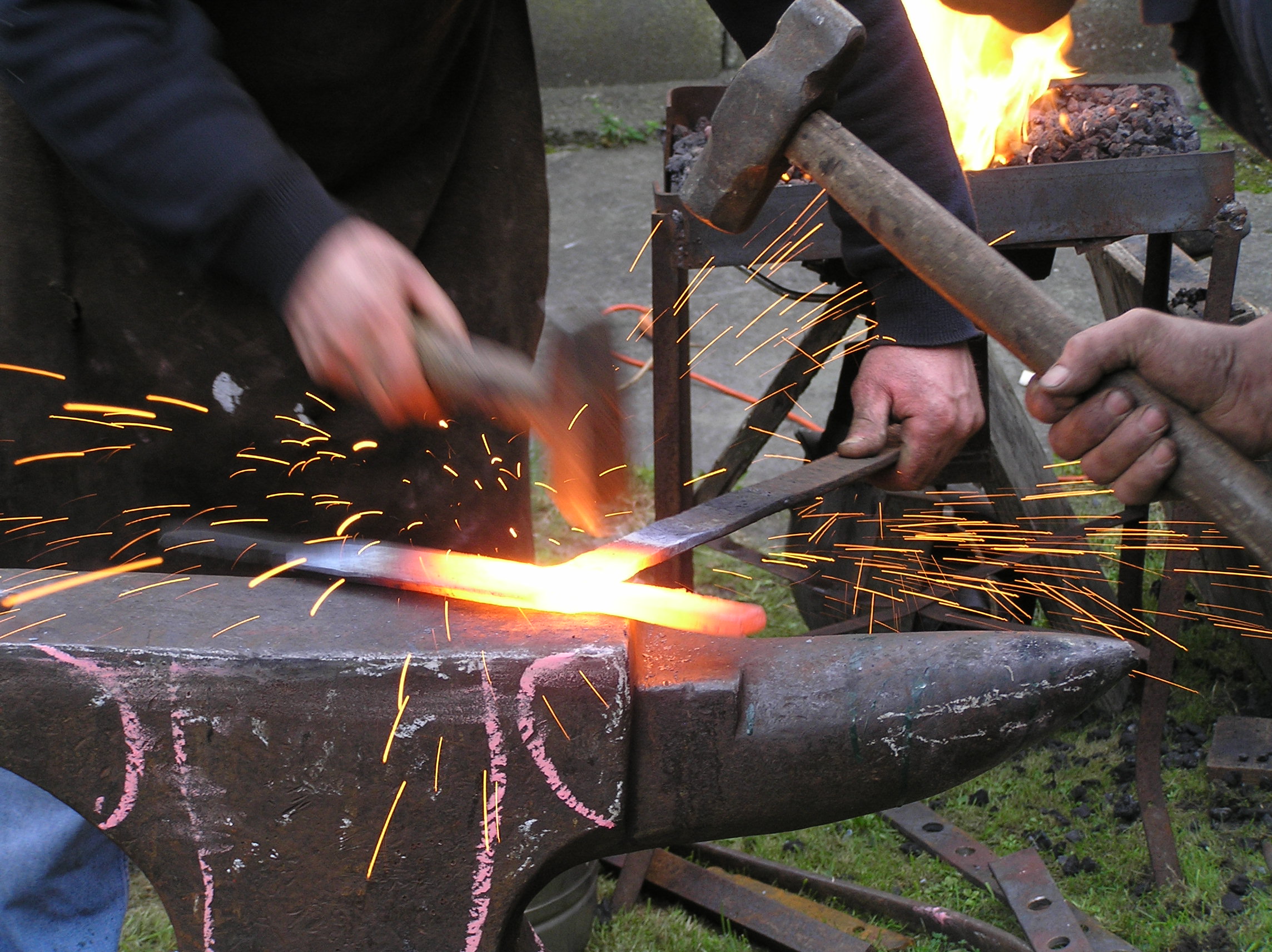 Traditional metalworking underway on the square


DETAILS
Hosted in the magnificent 1790s rooms of a newly restored Georgian mansion at 65 Mountjoy Square West, the day takes two parts: a morning seminar of lectures exploring the history, craftsmanship, challenges and design specification of Mountjoy Square and its railings, followed by an afternoon demonstration of live metalworking hosted on-site on the west side of the square.


PROGRAMME


09.45 – 10.00
Registration
10.00 – 10.30
Mountjoy Square History & Development
Karin O'Flanagan, The Mountjoy Square Society
10.30 – 11.00
Mountjoy Square Park Conservation Plan & Railings Project
Dublin City Council Parks & Landscape Service
11.00 – 11.30
Refreshments
11.30 – 11.45
Georgian Lighting & Mountjoy Square's 'Globe-Irons'
Graham Hickey, Dublin Civic Trust
11.45 – 12.20
Design-led LED lighting in Historic Urban Environments
André Braun & Christian Zeher, Braun Lighting Solutions, Berlin

12.20 – 13.00
Mountjoy Square Railings Repair Strategy
Paul Devlin, Blacksmith

13.00 – 14.00
Lunch
14.00 – 16.00
On-site blacksmithing demonstration, west side Mountjoy Square Park
Paul Devlin & colleagues
16.00
Close
Places are strictly limited and by advanced booking only. General public and trade/professional bookings are welcome. A light lunch and refreshments are included.

Seminar attendees are eligible for 5 Structured CPD Points under typical professional accreditation criteria.
GETTING THERE
Mountjoy Square is easily accessed on foot, by Dublin Bus and by dublinbikes where there is a bike station on the west side of the square and around the corner on Great Denmark Street. On-street pay parking is available around the perimeter of Mountjoy Square.

Please note that the seminar takes place on the same day as Culture Night 2017, allowing attendees an opportunity to experience attractions in the north Georgian quarter of the city.

The event is generously supported by Dublin City Council's Parks and Landscape Department.