This morning webinar will explore the history, design and approaches tc repair of historic roofs in Ireland with three expert speakers.
About this event
CPD Points: 3
Format: Live webinar via Zoom
Recording: A recording of the webinar will be made available for a two-week period to all attendees and to ticket-holders who cannot attend on the day. In the latter case, please book as normal and you will be included on the circular list after the event.
WEBINAR CONTENT
This morning webinar will explore the history and design of historic roofs in Ireland and approaches to their conservation and thermal upgrading, with an emphasis on traditional slating.
Roofs are a critical component of period buildings, providing essential weathering and insulation from the elements as well as architectural interest. Understanding their original construction, detailing and performance is important for undertaking repairs and for preserving the lifespan of the roof and the entire building.
In three presentations, expert speakers from research, trade and supplier perspectives will explore the common typologies of Irish roofs, traditional materials including slate, timber and lead, and the specification of detailing including grading of lead and copperwork, vapour barriers, insulation and slate selection. As roofs exhibit a variety of types and forms, including thatch, this webinar will focus primarily on slate, tile and metal-dressed pitched roofs as the predominant types found across the country.
Speakers Nicki Matthews, Niall O'Regan and Kieran Merriman will guide attendees through the above themes with three opportunities for questions and answers.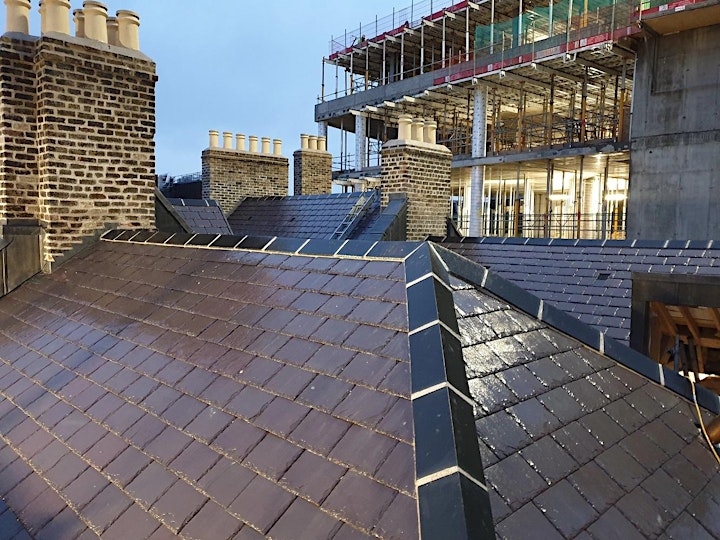 PROGRAMME
10.00
Introduction
10.05
History, Design and Detailing of Irish Historic Roofs
Nicki Matthews, Senior Architect, Department of Housing, Heritage and Local Government
Q&A
11.10
Traditional Roofing: Skills, Specification Standards and Insulation
Niall O'Regan, Manager, Crannóg Roofing
Q&A
12.10
Slate Types, Specification and Sourcing
Kieran Merriman, Blue Bangor Slate Company
Q&A
13.05
Close
Nicki Matthews is Senior Architect in the Built Heritage Policy Unit of the Department of Housing, Local Government and Heritage. Her role includes the delivery of a range of progressive policies for cultural heritage including the contribution on cultural heritage objectives to the Regional Assemblies, the National Heritage Plan 2030 renewal, the National Policy on Architecture, as well as devising strategies for delivering heritage-led urban regeneration and climate change mitigation.
Nicki is lead author of the 'Roofs' edition of the Department's Conservation Advice Series and has studied the construction of Irish Georgian roofs, including the application of this expertise in her former role as Architectural Conservation Officer for Dublin City Council. Nicki currently provides the technical support to the Department's various funding programmes including the Built Heritage Investment Scheme, the Historic Buildings Fund, the Historic Towns Initiative and the Heritage Council-run Irish Walled Town Network (IWTN).
Niall O'Regan founded Crannóg Roofing in 2001. Coming from a strong carpentry background, Crannóg began as a modest roofing company primarily dealing with timber carcassing and slating / tiling. It has since evolved into a multifaceted construction company with a strong portfolio in various aspects of roofing including flat roofs, metal roofs/facades, copper, zinc and aluminium, in addition to traditional slating.
Niall has always had a passion for developing new skills/technologies and is largely responsible for bringing these products to the company, along with advancing the firm's interest in heritage and conservation works. This includes developing current plans for upskilling and training personnel in traditional roofing skills to bolster the conservation skills base in the Irish roofing trade.
www.crannogroofing.ie
Kieran Merriman is Managing Director of Blue Bangor Slate Company, a leading Irish specialist supplier of slates and tiles, both new and reclaimed. The company has supplied thousands of roofs and hundreds of public buildings all over Ireland since its foundation in 1989. The business prides itself on providing a complete range of products to Irish roofers in addition to advice and technical support in dealing with all roofing challenges, from modest repairs and new builds, to large-scale conservation projects. The company's expertise in sourcing and selecting slate is well-regarded as a leading source of expertise in the industry.
www.bluebangor.ie