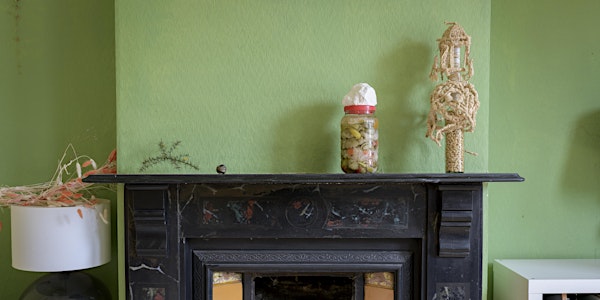 Multiple dates
Home Bodies
Home Bodies, is a show focusing on the work of, Jennie Moran, Sibyl Montague and Joanne Reid.
Date and time
Thu, 17 Jun 2021 12:00 - Sun, 18 Jul 2021 17:30 IST
Location
Clayton Terrace Saint Laurence's Road Chapelizod Ireland
About this event
Home Bodies, is a show focusing on the work of, Jennie Moran, Sibyl Montague and Joanne Reid. All three artists are invited as guests to cite their works, in the context of a living, breathing home. These art works are situated within the domestic space of Glandwr. Each artist works mostly in sculpture, re-framing the familiar by addressing ideas around hospitality, food and the feminine.
Glandwr, is a building rich in history, a place which has been of service to those who have needed it. There are many thoughts of 'what is a home', 'what is a family'? Other words for 'family' are, clan, folk and household. During the last 8 years while re-furbishing Glandwr, pulling back the layers, being sensitive to its previous history as a rehabilitation centre. The aim has been to reveal it's inner home. Now, at a time when people all around the world have been forced to stay at home, homes in their many different forms, are in salient focus.
The exhibition links in with ideas around what it is natural in society, and what humans consume. The body forms a research interest in it's widest definition: the physical body, the food body, the animal body, the plant body, the home body, the brick body, the poetic body, the essence body.
Feminist philosopher, Luce Irigaray's, thinking around family and reciprocity is interesting, it moves away from traditional genealogical lines to embrace ideas of mutual hospitality. Talking about the roles of 'guest' and 'host', how from her point of view, each role can be part of mutually beneficial exchange. 'Alluding both to the one who welcomes and is welcomed, something that bears witness to a time when hospitality referred to an exchange implying reciprocity.'
Home can be a place of refuge, peace, resource and sustenance but not always. Other resourcing spaces are, public parks, meeting places, the public house, and exhibition openings in galleries, which are for some artists, a social space.
Glandwr, when first met, was not a home in the conventional sense, it had a succession of exterior tinkering nooks and crannies, for making by hand and little potting sheds for growing. This mixture of purposes is a curious thing, living and working together. At this moment artists, workers and friends gather on social media, and 'workspace' is a cloud based, virtual form of company. How is this social company brought into embodied living?
Georges Perec, humorously accounts for the function, of traditional living places, in his book Species of Spaces and other Pieces; 'the vacuum cleaner goes into the broom closet; exhausted bodies into the bedroom; the two functions are the same recuperation and maintenance' he later asks, 'what a seery might look like or a smellery or a feelery'.2
Living in the environs of Chapelizod Village, 'Glandwr' is nestled next to the Phoenix Park in Dublin City. Time has slowed down, for some bodies. In many different ways this has brought an awareness of 'the other'. According to Claude Fishler, in Food, Self and Identity, 'Organisms and individuals are immersed and constructed by social forces'. One of societies etymologies is that of a plant or animal community, the analogy between insect society and a human city is not new. Society can also be defined as, a body of individuals living as members of communities.
The root meaning of home; is to settle, dwell, be home and the meaning of house originated as 'family'. Is this a time when urban modes of living embrace multiplicity; Opening up new ideas around the word family, broadening it's meaning to include: welcome guests, chance-comers, artists, neighbours and artworks.
Through small local gatherings and artistic interventions, Glandwr will continue to explore a living research, with the focus of 'home and habitat' to bring a community back inside these walls.
Quotes from:
Luce Irigaray, Towards a Mutual Hospitality an essay from the book : The Conditions of Hospitality: Ethics, Politics and Aesthetics on the Threshold of the Possible, 2013, Thomas Claviez
Claude Fischler, 1988. 'Food, Self and Identity'
//////////////////////////////////////////////////////////////////////////////////////////////////////////////////
We look forward to welcoming you to Glandwr! Visits are limited to three a day, with gaps in between for cleaning and airing, in line with Covid-19 household restrictions we will welcome only one visitor or household at a time, to allow a relaxed and safe experience. All visitors must wear face masks.
/////////////////////////////////////////////////////////////////////////////////////////////////////////////////
Please scroll down, to read the rest of this written piece by curator of Home Bodies, Debi Paul, which accompanies the exhibition. You will also find the reading list we shared as the project unfolded, with quotes throughout the piece of writing. A printed version will be available to take home with you, when visiting the show.
//////////////////////////////////////////////////////////////////////////////////////////////////////////////////
Image : Sibyl Montague, Jihan's Story, (2018) Installation Photo, Louis Haugh
Home Bodies; Artists: Jennie Moran, Sibyl Montague and Joanne Reid.
Curator: DebiPaul
//////////////////////////////////////////////////////////////////////////////////////////////////////////////////
Jennie Moran, is a woman who offers beautiful hospitality on a daily basis at her café, Luncheonette, a student canteen, which attracts visitors from far and wide, to eat the sumptuous, well priced food created by Jennie and her team. A cosy and aesthetically restful place, it is a long-term art project in an art college.
Jennie, speaks of opening her doors wide, trying to welcome everyone, a courageous and generous act, which naturally often fails and can result in leaving one feeling naked. For Jennie, Luce Irigaray's poetic writing in 'Towards a Mutual Hospitality' has helped her develop a new art work titled 'Something to Wear in an Antechamber of Possibility.'
'Bodies ought to approach one and other in a naked way, that is to say, without being already submitted or compared to customs that might thwart or mask their natural belonging'4
Jennie views Irigaray's ideas on Mutual Hospitality as a new position, or at least something other than Jacques Derrida's somewhat absolute law of hospitality. 'Enter quickly as I'm afraid of my happiness'.5 She has been thinking of Derrida, and reflecting on how impossible and brutal it is to always say yes to who or what arrives. Hospitality, as Irigaray notes has 'gradually' come to be 'considered as a sort of charity towards someone who is in want'.6
Architecturally an antechamber is a small room leading into a big room, 'ante' or 'prior to' is an architectural 'other' space. Instead of coaxing a guest into your universe, Jennie's antechamber allows the 'host' to step out of their everyday space into a 'neutral' or 'neuter' space, 'naked' 7 of expectations.
This is the journey or adventure that Jennie Moran's performative garment brings us on. In her work 'Something to Wear in an Antechamber of Possibility' she's seeking out, an alternative space, one which allows for the essence of both 'host' and 'guest' to be as they are. She's considering how an 'antechamber' might help. What if, in a changing way, there was a form, which held you in such possibility, that it enabled your very essence to be inside an 'antechamber', learning to take into account the differences between us.
From Irigaray's point of view 'To render this sharing possible, a space for silence needs to be prepared'8. For Jennie when thinking of nakedness she made a gown, which is transparent, so not completely naked, a performative garment, made from shimmering bubble wrap, fringing and beads, to wear when meeting a guest in silence. The gown has a quiet almost Japanese essence but actually, when worn it makes quite a lot of noise.
Jennie speaks of the work, feeling like being at home, in the comfort of your dressing gown and slippers. When on arrival of a guest, your home window is pushed open and the guest is greeted from a place of ease and comfort. The final part of 'Something to Wear in an Antechamber of Possibility' is a friend, a wordless welcome, a light to accompany and illuminate.
You will find this work, where Jennie has chosen to place it, in Glandwr's downstairs bedroom. It is beside a dressing table; hanging from an existing copper clothes rail, alongside other empty hangers, in varying configurations; like a gown left out to air on the eve of a special day.
'This sign of welcome shows that each one accepts to leave the circle of ones own discourse - our usual house of language'9 Irigaray, Towards a Mutual Hospitality
//////////////////////////////////////////////////////////////////////////////////////////////////////////////////
Sibyl Montague looks at the parallel between consumerism cultures and what many call 'nature' in her Saplings series. She presents 'tools' or sculptural objects, which explore our relationship to material as physical but flawed representations of inner experience.
At the base of the stairwell beside the banisters in Glandwr's hallway you'll find a Sapling artwork. From a distance it looks like sprouting buds, totem like, reaching from floor to ceiling. On closer inspection, the imagery of a distorted face is revealed, spread across the surface of a spring shoot. Human nostrils animate a globular form attached to a pole or tree trunk. This trunk is made from PVC waste pipe, wrapped in hessian potato sack; it sprouts tufts akin to fungi, which are in fact little pieces of faux fur. 'Handhelds (Paw)' and 'Lambs Leg' hang on the wall of the stairwell. These sculptures are instantly comforting and unsettling. It is interesting to think of the word sapling's definition, as young tree, young or inexperienced human or a greyhound in their first year.
Other Sapling works feature, hands forming a bodily embrace, lips, nostrils, eyes, layers of clothes and supermarket branding. Sensuous watermelons, mouths open, truncated corporeal forms with women's magazine imagery imbued into pulped structures.Curiously when Installing the work, Sibyl refers to each bud or globule as 'her'. Where will she go? One of the buds has a phallic quality about it, Sibyl talks about this as a support to rise these women up, freed from imposed or pre-determined roles.
The weaving and plaiting of straw in her work 'Jihan's Story' sits on the fireplace mantle piece. It speaks to something generative, pre-christian, a folk craft maybe akin to crosses made from reeds, to celebrate the Irish Fertility Goddess Bridget, this was a ritual to mark springtime, Imbolc 'in belly'. The jar of peanuts, on which the straw piece stands, was gifted by an Egyptian filmmaker friend of Sibyl's. Perhaps this flows full circle, the cat is a known deity in Egyptian tradition, when you look closely, you'll see small meditating and mummified humans and a mummified cat body hanging around the pillar of its structure. Animal mummies were often laid out with resin in their mouths to keep them open, so they could eat and drink in the afterlife.
When talking together Sibyl speaks of sentient beings, she talks about going to a place back in Cork near where she grew up, to visit a retreat yurt built on re-forested land where local people ask the trees for an answer, as sentient beings, what do the trees want?
In other sapling works, we see bottles of popular carbonated soft drinks, feeding the sapling sculptures. Pickled vegetables, sport expiration dates whilst sitting beneath a morphed plaster sculpture, could it be another land, or something growing.
//////////////////////////////////////////////////////////////////////////////////////////////////////////////////
Joanne Reid's work, its inspiration and materials rest somewhere between the convenience store baguette and the building site. The baguette, a pretty extravagant object in 1980's Ireland has now become an everyday item often found in the local corner shop and sometimes even lying waiting right inside the door of many service stations.
Joanne's work is a direct response to chance encounters with the materials, objects and spaces, that form our external and internal built environment. There is often a shift in the materiality or function of an object, which can provide new ways of looking at the everyday.'Day Sleepers (Crate B1)' is the first sculpture that greets you as you enter Glandwr's front door. A hybrid of bread tray/shipping crate arrives slid into the expectant hallway. Six baguettes, cast in concrete lie still. Or perhaps happily restricted in their daybeds. Using plywood and concrete, a staple on every building site, the work often illustrates blended worlds with dual meaning.
'Untitled (baguette with blue straps)' is installed pointing at an angle, facing into the bedroom, in an inquisitive manner. A concrete baguette is siting bound to a cast concrete sleeper. A 'sleeper' has multiple meanings, such as rising and escalating building blocks, or boundary indicators, or marking out foundations, it is also a sleeping body. The straps, which bind sleeper and baguette together, are made from waterproof tarpaulin. On this occasion, placed as soft as ribbon like strips, they form a supportive rather than a restrictive relationship. The work also has four timber supports, a combination of practicality and care. Everything is messy on a building site, yet the palette, is stacked with fresh building blocks, still and waiting.
Books that Joanne often returns to are An Attempt at Exhausting a Place in Paris and Species of Spaces and other Pieces, by Georges Perec.
'To question the habitual. But that's just it, we're habituated to it. We don't question it, it doesn't question us, it doesn't seem to pose a problem, we live it without thinking, as if it carried within it neither questions nor answers, as if it weren't the bearer of any information. This is no longer even conditioning, it's anaesthesia. We sleep through our lives in a dreamless sleep. But, where is our life? Where is our body? Where is our space?'10
'Untitled (baguette with double yellow lines)' lies perched up, centre stage, on the kitchen table. A baguette rests on a concrete block, placed on what could be a French countryside table. It is, supported by small elegant timber feet, which set it up and apart from daily life; the double yellow lines suggest no dilly-dallying. On discussing the work with Joanne, she talked about the power of display, and it's importance to her practice. In particular she referenced a still life painting called, 'Quince, Cabbage, Melon and Cucumber', 1602 by the Spanish artist, Juan Sánchez Cotán. In contrast to the typical 17th century, Dutch still life painting, Cotán's work is highly sculptural, with his sparse, elegantly placed vegetal scenes.
There is a pensive, awake quality to Joanne's work. It is, resting, baffling and un-stirring. The origin or etymology of the word 'baguette' is rather humorous here: little staff, wand, rod and stick. A vase filled with wildflowers, cow parsley, buttercups, and reeds, stand in one corner of the kitchen window frame, and an old copper saucepan in the other corner. A chair is set back from the dining table to allow the viewer contemplate this strange, humorous and spaciously layered scene.'What we need to question is bricks, concrete, glass, our table manners, our utensils, our tools, the way we spend our time, our rhythms.'11
//////////////////////////////////////////////////////////////////////////////////////////////////////////////////
For Home Bodies, we shared the following books/essays and interviews.
An interview by 'lare books' about 'Making Kin' with the eco feminist and philosopher Donna Haraway. https://lareviewofbooks.org/article/making-kin-an-interview-with-donna-haraway/
A chapter from the book, 'The Craft Reader,' written by Glenn Adamson, about Italian Shoemaker, Salvatore Ferragamo.
An essay by feminist philosopher, Luce Irigaray called 'Towards a Mutual Hospitality'. from Thomas Claviez' book, The Conditions of Hospitality: Ethics, Politics and Aesthetics on the Threshold of the Possible. 1, 4, 6,7,8,9A short piece of writing on Ironing by Shoukei Matsumoto from his book, A Monks Guide to a Clean House and Mind.A short excerpt from the book by Thomas Moore, 'A Dark Night of the Soul' An essay by French sociologist Claude Fischler about food and essence, why, what/how we eat is important.Fischler, Claude, 1988. 'Food, Self and Identity'3
Georges Perec's book or meditation on the everyday, An Attempt at Exhausting a Place in Paris, and his essayApproaches to What? (1973), 10,11 and the book Species of Spaces and other Pieces'.2
And lastly, the book: Of Hospitality, Anne Dufourmantelle, Invites Jaques Derrida To Respond, Translated by Rachel Bowlby (2020).5
//////////////////////////////////////////////////////////////////////////////////////////////////////////////////
Full text, written by Debi Paul, Curator of Home Bodies
//////////////////////////////////////////////////////////////////////////////////////////////////////////////////
Short Biographies
Jennie Moran uses a subtle, tactical approach to respond to situations. She thinks about generosity and timing. Her work is an attempt to dismantle places into their basic components and reassemble them so that they might function more poetically. Jennie uses her practice to create opportunities for hospitality. Recent artworks include, Luncheonette (2013 – Present), Giddy with despair, Galway Art Centre (2012), Things that can happen in a vacuum, The School of Physics, Trinity College (2011). She has gathered knowledge through international residencies at NES Iceland, Fondazione Ratti, Italy and Galleria Blanda, Buenos Aires.
Sibyl Montague looks at the parallel between consumerism cultures and what many call 'nature' in her 'Saplings' series. She presents 'tools' or sculptural objects which explore our relationship to material as physical but flawed representations of inner experience. Recent exhibitions include; The Law is a White Dog, Tulca, Galway (2020); Self Soothers, Visual Contemporary Carlow (2020); Display, Link and Cure, The Complex, Dublin (2019); My Fears of Tomorrow are Melting Away, Les Arcades, Cité internationale des Arts, Paris (2018).
Joanne Reid's work is a direct response to chance encounters with the materials, objects and spaces, that form our external and internal built environment. There is often a shift in the materiality or function of an object which can provide new ways of looking at the everyday. Recent exhibitions include; ARTWORKS: Dearly Beloved, Visual Carlow (2019) and Futures, Series 3, Episode 2, Royal Hibernian Academy (2018), Joanne is a past recipient of the Basic Space Artists Residency Award and the Sculpture Workshop Residency Award and Bursary at Fire Station Artists' Studios, Dublin.
Debi Paul is a visual artist and curator, her practice is rooted both in performance and place, with a focus on the body. She often draws on/learns from site-specific communities of interest. Her work observes the connection between practice and philosophy and ideas that relate to the material world. The work aims to disrupt and challenge routine interaction with the familiar. Curatorial projects include; (upcoming) Living Balance, Caoimhe Dalton, Kate Fahey, Stephen Vaughan, Hazel Egan and Suzanne Walsh, Blackchurch Emerging Curator Award (2022); Behold the Anchoress!, Eavan Aiken + Edwin Kelly, The Darkroom (2017); Configurations of Materiality, a workshop with Vanessa Donoso Lopez, Project Spaces, Irish Museum of Modern Art, IMMA (2016); Statecraft, (co- curated) Project Spaces, IMMA (2016); Osmosis, Eunmi Chun, Mirei Takeuchi, Mizuki Takahashi, Sam Tho Duong + Christodoulos Makris, Temple Bar Festival of Ideas and Politics.(2015)