Description
Homebeat are delighted to announce a special evening of music and spoken word to celebrate Carriages' new release 'Roots / Significant Landscapes' and announce our impending Wild Atlantic Tour in the wonderful surrounds of The Fumbally Cafe, Dublin.
Featured on the night:
CARRIAGES:
Experimental folk/electronica duo Harry Buckless and Aaron Page have made huge strides since appearing, seemingly fully formed just over 12 months ago. This is their second release, following up the double A-side 'Roots / Significant Landscapes' which will be out on July 2nd.
http://carriages.bandcamp.com/releases
MARIA SOMMERIVILLE:
Brooding, deep and direct folk crossed with sweeping electronica, Maria Sommerville is one of the leading emerging lights in the Irish music scene.
http://soundcloud.com/somervillesounds
JOHN CUMMINS POETICIAN
John Cummins is one of Ireland's foremost spoken word artist. His lyrical content is only matched by his performance style.
https://www.facebook.com/johncumminspoetician?fref=ts
We are heading out on the road with Carriages from July 11th -16th on our first ever Irish tour along the West Coast and meeting up with friends' old and new.
Doors 8pm, €8.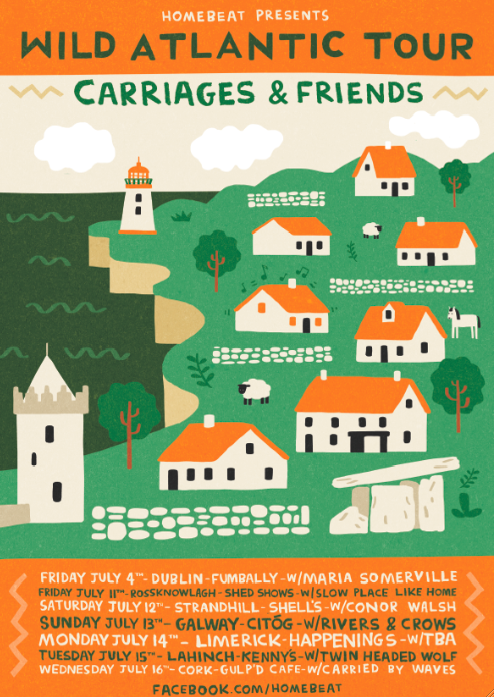 Organiser of Homebeat present : Carriages Single / Wild Atlantic Tour Launch