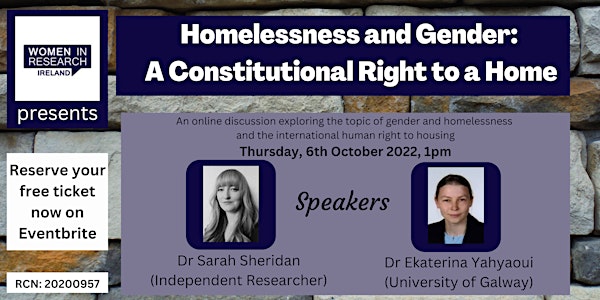 Homelessness and Gender: a Constitutional Right to a Home
Women in Research Ireland (WIRI) is hosting a discussion exploring the topic of gender, homelessness and the right to housing
About this event
There's a misconception about women's homelessness as a minor social problem and a subcategory of homelessness, because women's homelessness often remains invisible. Women's experiences of homelessness differ from those of men, and growing international evidence shows that female pathways into experiences of homelessness are complex and gender-specific, including – but not limited to – domestic violence, economic insecurity, housing exclusion and racial discrimination. Women facing intersecting forms of discrimination as they are at a disproportionate risk rate of poverty, housing exclusion and homelessness.
In the current context of a rapid increase in the number of women homelessness as a result of the housing affordability crisis in Ireland, this event will promote a debate on the relationship between gender, homelessness and the international human right to housing to underline the centrality of housing as a human right through a gender lens. In particular, we will discuss in what ways the adoption of a legal rights-based approach to housing provision can contribute to effectively addressing the challenges of women's homelessness.
Zoom link will be emailed following ticket reservation. Questions are encouraged from attendees via the Zoom Q&A box. Questions can be submitted anonymously.
If you have any alternative requirements (e.g. ISL interpretation), please notify us in advance at womeninresearchireland@gmail.com. For more information access WIRI's webpage here.
Meet the panellists:
Dr Sarah Sheridan is an Independent Researcher with a particular expertise on homelessness, gender and related topics. Her doctoral thesis ''Women and homelessness in Ireland: a biographical, longitudinal perspective' explored women's experiences of homelessness and housing stability involving qualitative, longitudinal exploration of women with histories of homelessness. Sarah is currently a lecturer on Postgraduate Diploma in Social Policy and Practice and Visiting Research Fellow with School of Social Work and Social Policy at Trinity College Dublin. Previously Sarah worked in research management roles in the Irish Human Rights and Equality Commission (2019-2021) and Focus Ireland (2016-2019). Sarah is also a Board Member of Threshold.
Dr Ekaterina Yahyaoui is Senior Lecture in Human Rights in the Irish Centre for Human Rights, School of Law at the University of Galway. She is currently the Vice-Dean for Research in the College of Business, Public Policy and Law. She is an expert in various dimensions of human rights and international law dealing with exclusions and deficiencies along gender and cultural lines. Her approach is interdisciplinary and combines theoretical insights with practical proposals. Most recently, she published a monograph discussing the limitations and possibilities of the concept of gender in international human rights law, a book entitled: 'Gender and Human Rights: Expanding Concepts', as well as a monograph discussing the concept of space in international law from an historical perspective named 'Space and Fates of International Law: Between Leibniz and Hobbes'
Panel Chair
Dr Valesca Lima is the current Co-Director of WIRI and Assistant Professor at Dublin City University. Her current research examines housing policymaking with a focus on the financialization of housing, contemporary struggles for housing rights and housing affordability issues in Ireland, Europe and beyond. Drawing on social justice approaches, Valesca's academic interests are also focused on participatory democracy and citizen engagement, with the aim of understanding how citizens can influence the policymaking process, as well as conducting research on the political participation of migrants. She will be the moderator of this online event.