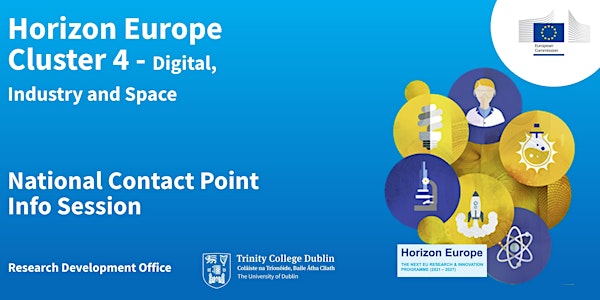 Horizon Europe Cluster 4 NCP Information Session
Open to Trinity staff as well as AMBER, ADAPT and CONNECT - non-TCD members should note centre affiliation in the registration questions
About this event
Learn about upcoming collaborative funding opportunities in the Horizon Europe digital, industry and space research cluster and plan your funding applications for 2023 and 2024!
On 20th June the Trinity Research Development Office (RDO) will host an online event welcoming the Irish National Contact Points for Horizon Europe Cluster 4 (Digital, Industry and Space) - Sergio Fernandez-Ceballos, Gerard Kennedy, Stephen O'Reilly and Conor Sheehan - who will provide an overview of upcoming opportunities for collaborative multidisciplinary research topics.
These collaborative European funding opportunities are open to researchers at all career stages, from postdoctoral researchers to full professors.
Agenda
15:00 – 15:05 Welcome and introductions - Trinity RDO
15:05 - 15:25 Introduction to Cluster 4 Industry Topics and Opportunities (with Q&A) -Sergio Fernandez-Ceballos
15.25 - 15.45 Introduction to Cluster 4 Digital Topics and Opportunities (with Q&A) - Gerard Kennedy and Stephen O'Reilly
15.45 - 15.55 Introduction to Cluster 4 Space Topics and Opportunities (with Q&A) - Conor Sheehan
15:55 – 16.15 Planning your funding application and RDO supports - Trinity RDO
For any queries about the event please contact research.office@tcd.ie
After registration, you will receive a calendar invite with a link to join the session online.
Please indicate at least 2 weeks before the event date if you have any access requirements, such as ISL/English interpreting, so that we can facilitate you in attending this event.
Data Protection Notice: The RDO fully respects your right to privacy. Personal data captured to register for this event will be used only for this event and for its evaluation. All data will be processed in accordance with the General Data Protection Regulation (EU) 2016/679 and the Irish Data Protection Act 2018. Further information on data protection compliance at Trinity College Dublin is available at https://www.tcd.ie/privacy/