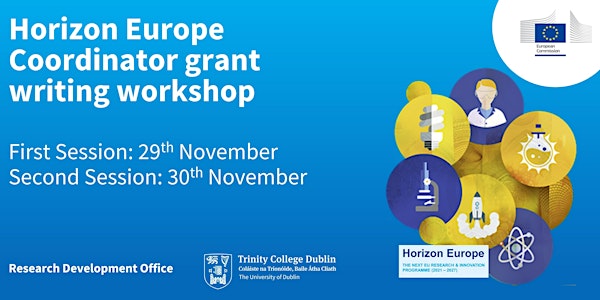 Horizon Europe coordinator grant writing workshop
*Only open to Trinity staff as well as AMBER, ADAPT and CONNECT
About this event
This workshop is targeted at coordinators for Horizon Europe Pillar 2 collaborative grants under the 2023 or 2024 deadlines. The two half-day sessions will detail a strategic approach to writing all three sections of the 45-page Horizon Europe template as well as discussing the proposal concept development , consortium and budget development and additional supports available from TCD's Research Development Office.
First Session: 10:00am-1.00pm, Tuesday 29th November
Second Session: 10:00am-1.00pm, Wednesday 30th November
Please note that we need a minimum number of participants in order for this workshop to run.
After registration, TCD staff who RSVP will be sent a calendar invite with a Zoom link to join the session online.
Please indicate at least 2 weeks before the event date if you have any access requirements, such as ISL/English interpreting, so that we can facilitate you in attending this event.