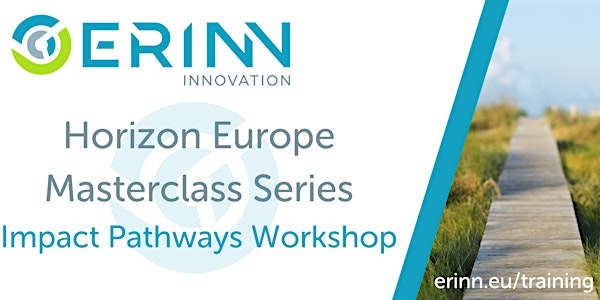 Horizon Europe Masterclass: Impact Pathways Workshop
Understand how to develop your Impact Pathways, analysing potential project objectives to meet EC directed outcomes (half-day course)
Refund Policy
Contact the organiser to request a refund.
About this event
ERINN Innovation is pleased to offer a series of live, online training courses covering the pre-funding stage of Horizon Europe.
Focusing on Pillar 2 opportunities within Horizon Europe (Global Challenges and European Industrial Competitiveness), our courses use a combination of engaging presentations, practical examples, and hands-on interactive exercises to provide a user-centred and outcome-focused experience.
Impact Pathways Workshop (half-day course)
Impact, Section 2 of the proposal, is often the most challenging section to write and where proposals lose marks. This workshop will model an analytical, step-by-step process that will support you to map convincing Impact Pathways. Learn how to address fully the expected outcomes and impacts of the call topic and destination, achieve the specificity required and consider impact implications for project design and consortium selection.
This workshop session is packaged with the Proposal Writing Bootcamp but can also be booked separately
Workshop content
• Learn the difference between outputs, outcomes and impacts
• Discover how to interrogate and map credible and convincing impact pathways for your proposal
• Opportunities to develop and ask specific questions about your potential pathways to impact
Target Audience
• Coordinators, coordinating teams, project managers
• Research support services
• Those who have already identified an appropriate Horizon Europe Pillar 2 call and have their concept note and project design outlined.
Dates:
Thursday 8th December 09:00 – 12:30 Dublin time (10:00-13:30 Brussels time)
Group Offer: Special group discounts are available for organisations who have more than three participants. Contact us at training@erinn.eu for more information.
Data collection notice
Please note, the information collected in this registration form is for the purpose of attendance at the ERINN Innovation online training course series. Your information will be stored and processed by ERINN Innovation. We will not share your data with third parties.
Payment and cancellation policy
Participants must pay in advance to receive access to the training course.
Participants who wish to cancel their registration will receive a full refund if cancellation is made at least five working days before the date of the course.
For cancellations between five and two working days in advance of the course, participants will receive a 50% refund.
Any cancellations within two days before the training course will not receive a refund of the fee paid.
If you want to change the name for a particular reservation, you must inform ERINN at least two days before the relevant course.
If you have any queries about payment, or if you would like to discuss pricing options for group bookings, please contact training@erinn.eu.