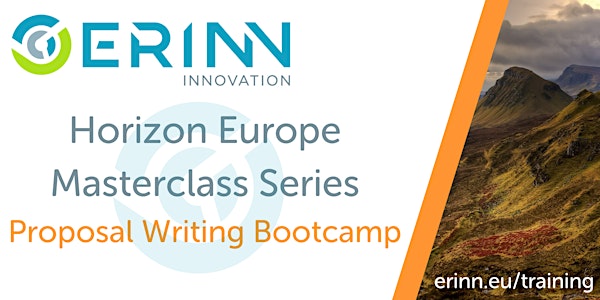 Horizon Europe Masterclass: Proposal Writing Bootcamp
Proposal Writing Bootcamp: Maximise your score – how to achieve a high quality Horizon Europe proposal (3 half-days)
Refund Policy
Contact the organiser to request a refund.
About this event
ERINN Innovation is pleased to offer a series of live, online training courses covering the pre-funding stage of Horizon Europe.
Focusing on Pillar 2 opportunities within Horizon Europe (Global Challenges and European Industrial Competitiveness), our courses use a combination of engaging presentations, practical examples, and hands-on interactive exercises to provide a user-centred and outcome-focused experience.
Proposal Writing Bootcamp (3 half-days course)
We will take you step by step through each section of the application form, providing examples and ideas on how to build up a proposal effectively and efficiently, covering the key elements needed to secure a high scoring proposal and avoiding common pitfalls. Learn which features could get you that extra half mark that could be the difference between success and failure.
Target Audience
Coordinators, coordinating teams, project managers
Research support services
Those who want better insight into strong proposal writing.
Those who want to learn about template changes, new proposal structure and best practice approaches
Course Content
Strategic Approach to writing a bid
What is different about Horizon Europe?
How has the application template changed and what are the implications?
Map credible pathways to impact
How to write with IMPACT at the core
Understanding the evaluation process and how it should influence your bid?
Learn what can make the difference between winning and losing?
Writing a bid with real-life implementation in mind
Bid Writing Skills and Competences
Practical advice and tips for addressing each section/sub-section of the new application template.
Methods for developing 'Impact Pathways'.
Constructing a fit for purpose budget.
Efficient and effective involvement of partners.
Writing Styles - what works, what doesn't.
Tips and Tricks to presenting content and key messages.
Best use of visuals, diagrams and tables to save space and communicate key messages.
Map Impact Pathways
Learn the difference between outputs, outcomes and impacts
Discover how to interrogate and map credible and convincing impact pathways for your proposal
Opportunities to develop and ask specific questions about your potential pathways to impact
Dates:
8, 9, 15 March 2022
7, 8, 15 June 2022
4, 5, 12 Oct 2022
6, 7, 14 Dec 2022
(10:00-13:30 Brussels time)
Group Offer: Special group discounts are available for organisations who have more than three participants. Contact us at training@erinn.eu for more information.
Data collection notice
Please note, the information collected in this registration form is for the purpose of attendance at the ERINN Innovation online training course series. Your information will be stored and processed by ERINN Innovation. We will not share your data with third parties.
Payment and cancellation policy
Participants must pay in advance to receive access to the training course.
Participants who wish to cancel their registration will receive a full refund if cancellation is made at least five working days before the date of the course.
For cancellations between five and two working days in advance of the course, participants will receive a 50% refund.
Any cancellations within two days before the training course will not receive a refund of the fee paid.
If you want to change the name for a particular reservation, you must inform ERINN at least two days before the relevant course.
If you have any queries about payment, or if you would like to discuss pricing options for group bookings, please contact training@erinn.eu.