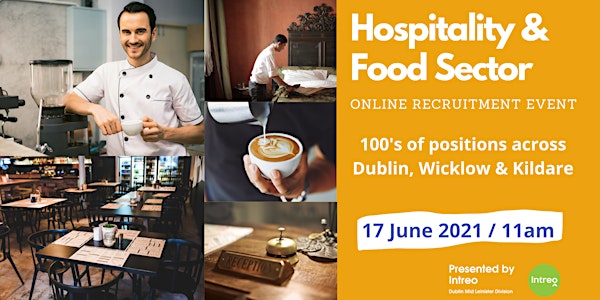 Hospitality and Food Sector Recruitment Event 2021 -
Why not join us to hear directly from Hospitality & Food Sector employers who will be showcasing their current live vacancies.
About this event

Intreo - your employment and support services are hosting a Hospitality and Food Sector online recruitment fair. This event will be showcase 100's of jobs available right now across the sector in the Dublin, Kildare and Wicklow areas.
There will be a wide variety of different roles to suit various skills, experience and educational backgrounds.
This online recruitment event will be attended by a host of companies who will tell us about their current vacancies and also discuss their culture and brand.
On the day, we also have a live jobs board which will be hosted by Intreo Employer Relations team.
Some Positions on Offer .....
Administration Assistant
Assistance General Manager
Bar Staff /Supervisors
Barista
Beauty Therapist
Catering Assistants
Chefs - (All levels)
Cleaning Operatives
Cleaning Supervisors
Cocktail Bar Staff
Cook
Customer Services Assistance
Duty Manager
Food & Beverage Assistants
Front of House
General Operative
Housekeeping Staff
Kitchen Porters
Kitchen Assistance
Night Managers
Receptionist
Restaurant Staff
Sales & Marketing Manager
Trainee Cook
Wedding & Events Co-ordinator
Plus More .......
This event is being run by the Department of Social Protection to support job seekers and local employers.
Limited places available so book your place today!
When will I receive my invite to the event?
We will contact you the day before the event with instructions on how to log on for this event.
I have a few other questions about the event, who can I ask?
If you have any further queries about the event you can email us at employerrelations@welfare.ie