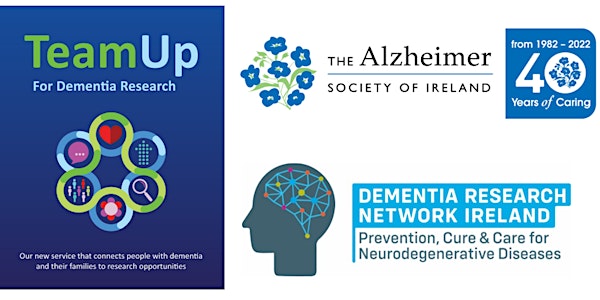 Hot Topics in Dementia: TeamUp for Dementia Research webinar
Join DRNI and ASI to hear more about the ASI TeamUp for Dementia Research service, as well as find out more about Dementia Trials Ireland!
About this event
Speakers are Dr Louise Hopper, School of Psychology, DCU; Ciara O'Reilly, TeamUp for Dementia Research Coordinator, ASI; Dr Laura O'Philbin, Research and Policy Manager ASI; Professor Sean Kennelly, DRNI/TCD; member of the TeamUp for Dementia Research service.
The Alzheimer Society of Ireland's TeamUp for Dementia Research is a service where people living with dementia and their families can register their interest in participating in dementia research, and be connected with researchers who are conducting studies in the area of dementia such as prevention, diagnosis, treatment, care, cure. Dr Louise Hopper (DCU) will be speaking on the significant benefits for the research community that the TeamUp for Dementia Research service represents.
Professor Sean Kennelly will be explaining Dementia Trials Ireland objectives - to significantly develop and expand the current small dementia clinical trials portfolio to include studies of diverse types. This will improve the lives of individuals at risk of, or living with, dementia.
This webinar is open to the research community and members of the public who are interested in learning more about taking part in dementia research.