Join us to learn innovative language learning techniques for the adult learner!
About this event
Are your students afraid of speaking and making grammar mistakes? Then we reckon you'll be delighted to join this session for inspiration on how to ignite your students' spark to speak and learn a new language. The session will showcase various language learning techniques that suit different learning styles and that adult learners can incorporate in their day to day language learning journey.
Who
EPALE Ireland and Léargas Language Programme
When
Wednesday October 20th 10.30am
What to Expect
An innovative and fun session with linguist trainers who will give tips and techniques for language educators.
Who it is for
Language teachers
Language educators
Language schools
Language organizations
Trainers
Please note: due to the nature of the event spaces are limited, if you do not intend on attending, please do not reserve a seat. If you cannot attend, let us know ASAP so that your ticket may go to someone on the waiting list.
Links to attend will be sent upon registration.
PRIVACY NOTICE:
If you register for this event we will use the personal details you provide to help us manage the event and meet our information needs. We may also use the data to build our lists of people who may be interested in hearing about or receiving funding through our programmes. By registering for this event you agree to this use. We will use your information with respect and keep it secure. You can ask us to delete or amend the data you provide us at any time. For more information, see the Privacy Notice on our website. Please also note that webinars may be recorded, and by registering for this event you agree to this use.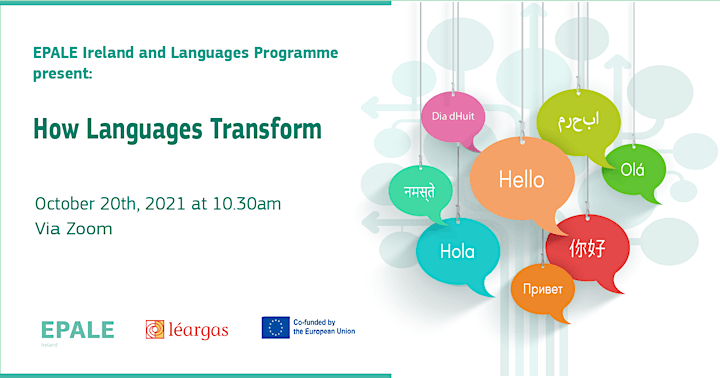 Organiser of How Languages Transform + How Learners Can Utilize Language Techniques