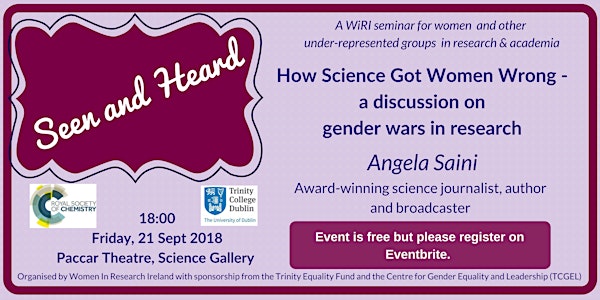 How Science Got Women Wrong with Angela Saini
When and where
Location
Paccar Theatre, Science Gallery Trinity College 1 College Green Ireland
Description
Women in Research Ireland are delighted to share with you the details of our next seminar - 'How Science Got Women Wrong with Angela Saini'.
Shedding light on controversial research and investigating the ferocious gender wars in biology, psychology and anthropology, Angela will talk about how the story of women is being rewritten. She'll explore what this means for us as a society, revealing an alternative view of science in which women are included, rather than excluded.
Angela Saini is an award-winning science journalist and broadcaster. She regularly presents science programmes on BBC Radio, and her writing has appeared in New Scientist, the Guardian, The Times, and Wired. Her latest book, Inferior: How Science Got Women Wrong, was published by Fourth Estate in 2017 to widespread critical acclaim, and was named the Physics World Book of the Year. Angela has a Masters in Engineering from the University of Oxford and was a Fellow at the Massachusetts Institute of Technology. Her journalism has received accolades from both the American Association for the Advancement of Science and the Association of British Science Writers.
The seminar will begin at 6pm and afterwards Angela will be free to answer any questions and sign books. A wine reception will also be served in the Deloitte studios of the Science Gallery after the talk. Tickets for this seminar are free and available now.
If you have any alternative accessibility requirements (ISL interpretation, etc.), please notify us in advance at womeninresearchireland@gmail.com. This seminar is an inclusive, QUILTBAG friendly space.
We look forward to seeing you there!