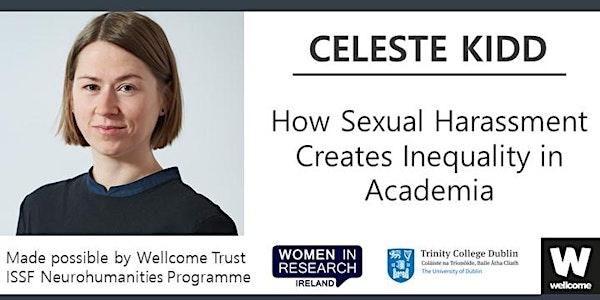 How Sexual Harassment Creates Inequality in Academia
When and where
Location
Edmund Burke Theatre Room 1008 Arts Building Trinity College Dublin Ireland
Description
On April 8th (6pm, Ed Burke Theatre, Trinity College Dublin), the Wellcome Trust ISSF Neurohumanities Programme and Women in Research Ireland will host Professor Celeste Kidd (Assistant Professor, University of California, Berkeley). Professor Kidd's talk will describe How Sexual Harassment Creates Inequality in Academia. The event will be introduced by Senator Ivana Bacik and chaired by Dr Clare Kelly.
In 2017, Kidd became a leading figures of the global #MeToo movement when she and her colleagues publicly challenged the University of Rochester on its handling of, and retaliation against, sexual harassment complaints from students and staff. She was internationally recognized as one of the academic leaders of this ongoing movement by TIME Magazine, when she was jointly featured as TIME Person of the Year 2017 - "The Silence Breakers" (2017). Kidd's activism has shed new light on how academic cultures of silence and intimidation can allow abusive behaviour to persist, and victims' careers to be damaged by the very institutions responsible for protecting them. She continues to advocate for protection from harassment for students and researchers in science and academia.
Professor Kidd leads a research group that investigates the cognitive processes involved in knowledge acquisition, especially in young children, using a combination of computational and behavioural methods. She has been awarded the Glushko Dissertation Prize in Cognitive Science from the Cognitive Science Society (2014) and a Google Faculty Research Award in Human-Computer Interaction (2016). Her research is funded by the Human Frontier Science Program and the Jacobs Foundation.