How the Metaverse Will Unlock a Trillion-Dollar Social Economy
Join a live and engaging online debate with Dr. Mark van Rijmenam, future tech strategist, entrepreneur, thought leader, and author
About this event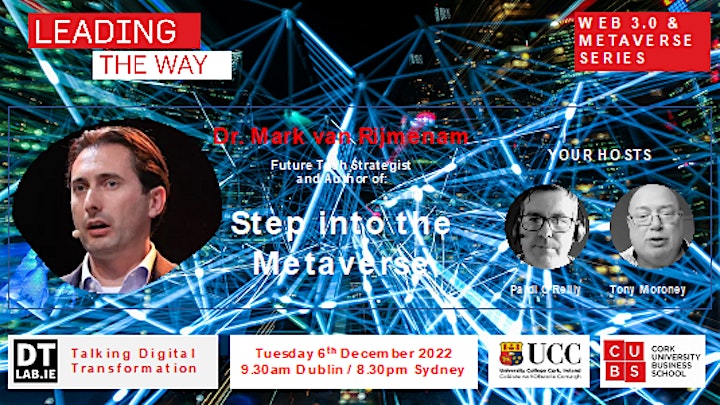 Dr. Mark van Rijmenam is a future tech strategist, entrepreneur, thought leader and author of Step into the Metaverse: How the Immersive Internet Will Unlock a Trillion-Dollar Social Economy.
In his book, Mark discusses how the world as we know it will fundamentally change as the physical and digital worlds merge into the metaverse, impacting the everyday experiences of people, companies, and societies.
Mark maps out the extraordinary opportunities and challenges facing business leaders, consumers, regulators, policymakers, and other metaverse stakeholders trying to navigate the future of the Internet.
He also addresses issues including avatars, identity and digital fashion to non-fungible tokens (NFTs), blockchain and the economics of the metaverse, and provides a perspective on:
• the importance of an open and interoperable metaverse;
• potential for metaverse entertainment, including gaming, music, media, and sports; and
• how brands can engage with their customers in novel ways and how digital twins will change how we work and innovate;
• the dangers of an always-on, immersive internet, including data breaches, avatar imposters, mental health issues, corporate and state surveillance, and the need for metaverse law.

The Digital Transformation Lab (www.dt-lab.ie) is a network of stakeholders interested in developing, validating, and sharing best practices in Digital Transformation. We do this through: (1) supporting peer-to-peer learning within the network; (2) undertaking and sharing research findings; (3) organising regular online and face-to-face networking events; (4) organising thought leadership events and masterclasses; and (5) using podcasts, blogs, and social media activities to share our message'.
Join us for this and future events in the DT-LAB Disruptive Technology Series.
To view some of our previous events:
To follow us: