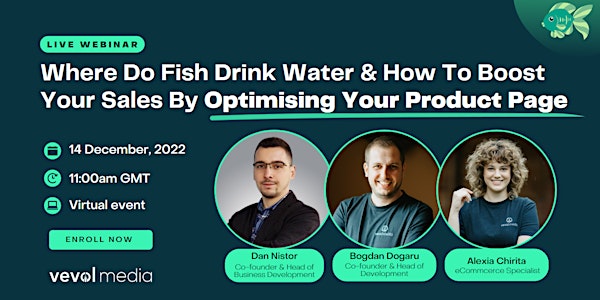 How To Boost Your Online Sales By Optimising Your Product Page
As an eCommerce merchant, your product page is your greatest business asset, which we'll debunk together.
About this event
If you're running ads but hearing crickets and struggling to land sales, it's likely your product page hasn't been optimised for conversions.
UI/UX design can seem complicated and overwhelming, but if you understand the basics of how a product page should flow, you can create a much more enjoyable user experience for your customers.
Join us in this FREE live webinar on LinkedIn to learn how to make some small but powerful changes to your product page that will have your prospective customers hitting "add to cart" like never before.
The webinar will be presented by 3 accomplished members of the Vevol Media team - Dan Nistor, Co-Founder, Bogdan Dogaru, Head of Development, and Alexia Chirita, Account Manager & eCommerce Specialist - Europe's emerging leaders in eCommerce development.
Together, we'll discover:
How to build a product page that converts well, even after the holidays
UI/UX-friendly designs
SEO best-practices you need to be aware of
Product Page must-haves & world-class examples
Speed optimisation importance
Win a Free Live Audit!
At the end of the webinar we'll pick 3 lucky attendees and perform a live UX audit session for their product pages. So, if you're curious as to how you could improve your website, join us and you may just be a winner.
If your sales are in need of CPR, you won't want to miss this one, so reserve your spot now and add the date to your calendars.
Who Are We?
Vevol Media is making waves as a leading eCommerce and Shopify Development agency in Europe. With extensive experience in CRO and UX design, Vevol Media offers their clients cutting-edge eCommerce solutions, with a track record of excellence.