Description
In this full-day training you will learn the complete process of building website with HTML and CSS. This includes how to prepare the website structure and resources, design the website layout, do actual coding, publish the website on your domain, test on mobile and even add some SEO.
WHAT YOU WILL LEARN
Planning: We will teach you how to define what exactly we are trying to build. We will "mock" interview with a customer, create information resource pack for use to work with and also create website map.
Design: Because the focus of the course is on development and not graphic design, we'll take shortcuts to come up with an attractive look (eg. we won't use photoshop). We'll focus on creating an attractive layout for our site and showcase how to think about our website as a set of components. As a bonus we will briefly cover design concepts such as color schemes, typography and grid.
Coding with HTML/CSS: This will be our core module. We will teach you how to make sense of HTML tags and CSS properties. We will give you smooth introduction into fundamental concepts such as DOM-Tree, HTML layouts, CSS classes, CSS selectors, etc. We will also cover what a "responsive website" really means and show techniques to make site responsive.
Publishing and marketing: We'll explain the different hosting options, how to buy a domain name and how to do SEO so that your audience can find you on Google.
WHO IS THIS FOR?
Whether you're aspiring to become a developer, need to upgrade your understanding of the Web for your current role, or building a startup, you will benefit from understanding fundamentals of website development.
Don't worry about complexity, the course is intended for complete beginners! You only need to bring your enthusiasm and curiosity (and your laptop!)
During the course you will make your own website which you will be able to proudly show to your network and add it to your CV. Above all you will acquire basic skills on programming and find out if this is something you would like to learn more about.
WHAT'S INCLUDED?
Thanks to our sponsor The Digital Hub we are able to provide this amazing full day training as part of Hackers/Founders Dublin Community Workshop Programme for only €10.
The course will run from 10am to 6pm with 1h break for lunch.
The price of the course includes:
Breakfast: tea, coffee and biscuits.

Snacks and water during the course.

Learning programming in human language: our instructor and mentor Dimitry will make sure you fall in love with angle bracket and that you understand complex programming terms by explaining things in plain English.

A great opportunity to upgrade your digital skills in the largest cluster of technology & digital media: The Digital Hub.

Meet fellow participants who are also learning programming, make new connections and expand your network.
YOUR MENTOR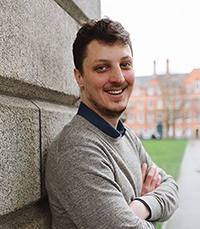 Dimitry Kireyenkoff: Full Stack Developer, Cloud Guru and Entrepreneur.
Dimitry wrote his first piece of code in 1995 on a 486DX computer and since then he has been working with different technologies building a variety of applications. Every day he works with HTML, CSS, Java, PHP, JavaScript, Amazon Web Services Cloud only to name a few. He's been running his own software consultancy company for the past 5 years helping clients with custom solutions like web applications, IoT, APIs and warehousing systems.
Number of spots is limited so get your ticket early!
Still have questions? Drop us an email and we'll be happy to help: contact@hfdublin.ie
SPONSORED BY