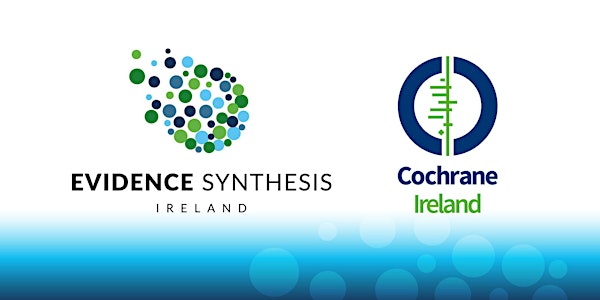 How to create a Summary Findings Table for your systematic review
Aim of the workshop is to provide detailed information about how to create Summary of Findings tables for Cochrane Reviews and other reviews
About this event
Date: 1st March 2022
Time: 14:00 - 16:30
Places: Individuals who are resident in Ireland & Northern Ireland
Background
While preparing your systematic review, you will need to interpret your results and then communicate the results to readers. The Summary of Findings table (SoF) is a tool to do both. You can create the SoF using the GRADEpro software (www.gradepro.org).
Objectives
The objectives of this workshop are to:
Provide an interactive session where participants can ask questions about how to create an SoF
Describe the parts of an SoF
Show participants how to use the GRADEpro software to create an SoF using an example review – some participants may be able to practice doing this in real time
Explain how to convert the results of a review (e.g., relative risks and mean differences when available) to absolute effects that are typically more understood by decision makers
Describe briefly the GRADE approach to assess the certainty of the evidence and the importance of 'explanations'
Show how review authors can use the information in the SoF to write the results and conclusions for their review
Learning outcomes
In this course participants will be enabled to:
Use GRADEpro to make a Summary of Findings table, import and export the table into RevMan
Understand how to report results of a review, along with the certainty of the evidence, in an easier to understand format
Use the Summary of Findings table to write the results and conclusions for a review
Teaching strategies
The workshop will consist of a guided exercise that participants can follow or can practice at home (i.e., likely easier if participants have two screens at home). Participants will be provided with materials at the beginning of the workshop. Participants will be encouraged to ask questions at any time during the session – the goal is an interactive workshop.
Facilitators
Associate Professor Nancy Santesso, McMaster University, Canada
Deputy Director, Cochrane Canada
Nancy Santesso has been involved with Cochrane since 2002 and a member of the GRADE Working Group since 2006. She provides training nationally and internationally about the conduct of systematic reviews and the use of the GRADE approach in systematic reviews and guideline development. Her other research interests include the communication of evidence and guidelines to stakeholders, in particular to patients and the public.
Course content
1400-1415 Introduction to a Summary of Findings Table
1415-1615 Guided exercise to create a Summary of Findings Table
1415-1425 Importing results of a review
1425-1515 Presenting a dichotomous outcome, continuous outcome, outcome without meta-analysis, and understanding absolute effects
1515-1535 Brief description of GRADE approach and footnotes
1535-1550 Creating informative statements for conclusions
1550-1600 Exporting results
1600-1615 Incorporating results into the text of a systematic review
1615-1630 Opportunity for additional questions
Organiser of How to create a Summary Findings Table for your systematic review