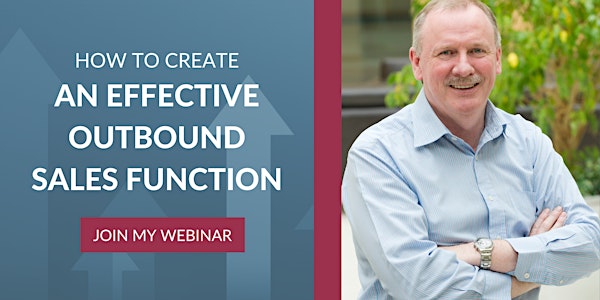 How to Create an Effective Outbound Sales Function
Avoid missed sales targets and revenue peaks & troughs by establishing a repeatable system of outbound sales prospecting.
About this event
Are you Missing Sales Targets?
Are you Making Less Commission than you Expect?
Do you feel Stressed towards the End of each Month or Quarter?
Are you constantly Wondering where the next Deal is Coming from?
Is your Business suffering Revenue Peaks & Troughs?
Are you Finding it difficult to Plan with Confidence?
The #1 challenge for most B2B businesses is generating enough sales leads to satisfy sales targets. Given that most sales processes lose 85% of Marketing Qualified Leads before they become Opportunities and then lose 85% of Opportunities before they become Closed Won Deals, means that for every 1 Deal, you need about 45 Leads!
This demand requires a consistent level of prospecting activity to complement the usual marketing and run-rate business development activities.
During this 1-hour webinar with sales leadership coach Brendan Dunne, you will understand what is required to create an effective outbound sales function:
Establish a Sales Prospecting Process
Identify Target Companies and People
Create Prospecting Messages
How to Create a Prospecting Plan
How to quickly Qualify or Disqualify Prospects
Understand and Manage your Most Valued Resource "TIME"
Create a Prospecting Environment
How to Identify and Deal with Disruptive Emotions that Prevent Prospecting
Presenter Brendan Dunne:
I am a Sales Leadership Coach with over 35 years of Solution Selling and Sales Management experience. I provide Business Owners and Sales Leaders with the Structures, Sales Methodology Training, and Tools required to establish an effective Sales Function that will deliver continued success to the business.