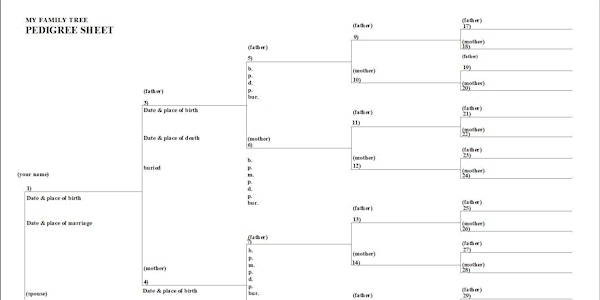 'How to create your family tree'
The National Archives is delighted to announce our online talk 'How to create your family tree' for Culture Night 2021!
About this event
We will be hosting an evening talk entitled 'How to create your family tree' which will be presented by genealogist Tony Hennessy (Member of Accredited Genealogists Ireland).
Tony's talk will help you design and create your own family tree and will cover the following topics:
• Identify several different types of family trees
• Learn how to draw a family tree
• Decide what information to include in a family tree
• Explore the use of photographs in family trees
• Enjoy a film
• Discuss computer-based family tree packages
Speaker's biography
Tony Hennessy, a professional genealogist and member of Accredited Genealogists Ireland (AGI), has been involved in the world of genealogy since 1985. He undertakes personalised genealogical research for both native Irish and members of the diaspora and specialises in designing and drawing extensive family trees. Tony also lectures on genealogy courses at University College Cork, University of Limerick and Dublin City Colleges.
In December 2019, Tony, in partnership with Pavee Point and members of the Irish Travelling Community, compiled several large Traveller family trees which were formally presented at their request, to the National Library of Ireland.
Note: The lecture will be hosted on Zoom and the link to attend will be sent in advance of the event to the email address with which you registered.