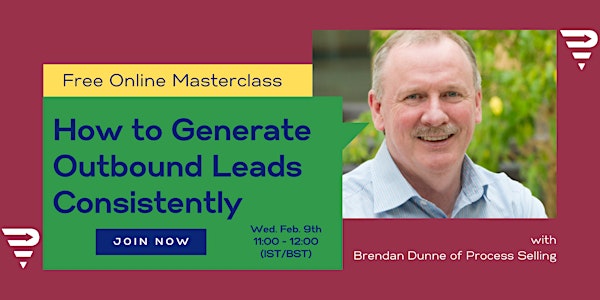 How to Generate Outbound Leads Consistently
Avoid missed sales targets and revenue peaks & troughs by establishing a repeatable system of outbound sales prospecting.
About this event
Are you struggling to reach your sales targets every month or quarter?
Is your pipeline lacking the number of qualified leads required?
Is your Inbound strategy delivering the wrong type of leads?
Is the ROI on your Inbound strategy less than 10x?
The #1 challenge for most B2B businesses is to consistently generate enough qualified sales leads to achieve sales targets. Sales leads can come in many different ways, but the best method of achieving consistency, is to adopt an outbound strategy.
If you are a B2B business owner or sales leader, frustrated with revenue peaks and troughs, this free 1-hour masterclass is for you. Take control of your destiny, by establishing an outbound sales strategy that consistently delivers:
How to position yourself for engagement (high-level)
- Determine your offering (not all things to all people)
- Decide on a target persona (companies and people)
- Create impactful messages (value proposition/USP)
- Map out a sales process with objectives
How to prepare for an outbound campaign (mid-level)
- Source lists and Linkedin Sales Navigator
- Align CRM with the campaign
- Methods of outreach and sales collateral
- Create an outreach schedule
How to execute an outbound campaign (low-level)
- Allocate resources (people and time)
- Understand your objective (Qualification)
- Follow the process
- Track activity in CRM
Facilitator:
Brendan Dunne, Founder of Process Seling, is a Sales Leadership Coach with over 35 years of Solution Selling and Sales Management experience. Process Selling provides Business Owners and Sales Leaders with the Structures, Sales Methodology Training, and Tools required to establish an effective Sales Function that will deliver continued success to the business.
What others say about us:
"We began to use the services of Process Selling in 2017 and immediately found a markable improvement in how our salespeople approached their work. It's evident that Brendan has a great deal of experience in selling situations and can adapt to the challenges faced by the team.
Our business is very competitive, so we need every advantage. The Process Selling methodology helps us to stay focused on what's important to our customers and as a result, we are closing more deals.
We continue to engage Brendan to keep the momentum going and I would highly recommend him to any sales organisation wishing to improve its position."
Dave McEvoy, Managing Director, DMAC Media
"From the initial discovery session, Brendan's experience as a facilitator and senior manager became apparent. His pragmatic nature and objective point of view helped greatly in devising a new sales strategy.
Within months my business has seen a 10% increase in sales revenue. The business has a clear line of sight in targeting key clients, using the correct approach with articulated messaging. This really is working smarter, not harder. I highly recommend Brendan for his skills, knowledge, and professionalism."
Eoin Daly, General Manager, Snap (Naas Road & Blanchardstown)