Get the most out of only 15 minutes of play per day, learn how to do proactive and fun parenting & avoid tantrums
About this event
Join us on the National Lazy Day special event "How to get your child to behave, engage and listen with a funny twist".
Whether you're a slacker or a dad joke cracker,
Whether you're a lazy bum or exhausted mum,
Whether you're a couch potato or fun creator,
Whether you're a fence-sitter or need-alone-time mum,
For all the 24/7 parent animators,
Come and join us on the "only" lazy day
Nobody can call you out for staying in bed all day.
Come and book your workshop space,
And let yourself be inspired without getting tired.
How to parent – for all parents
Let's unloop your perseverance as required.
I don't mind if you join me with your pyjamas on,
The only thing I'll be asking is for you to have your thinking hats on,
With an open mindset let the knowledge flow in.
You don't even have to move a finger,
Other than press the button to join in.
Write the 10th August in your calendar and don't forget to "prepare" for the day
By "practising" being lazy in your own way.
This workshop is brought to you by Kristina Jankovic, a teacher, mom and life coach specialising in helping parents with their everyday struggles. All the methods shown in the workshop are science-based with the most up-to-date methodology and tried out (on my own child) and in more than 10 years of working with children.
Jokes aside (or maybe not), this is what you will learn. How:
• Not to start the day with a tantrum and what least you can do the day before
• To get the most out of only 15 minutes of play with your child per day
• To respond calmly when you get all your buttons pushed simultaneously
• To get your child to play on its own for longer
• To lose track of time whilst engaging with your child
• Not to get bored to death whilst playing puzzles with your child
• To merge words "produce" and "active" into (how-to-parent) "proactive"
• To avoid the biggest mistakes when correcting behaviour
• And what to say to help your child focus and listen to you
• To encourage good behaviour with positive parenting
Studies have shown that "if you meet 30% of your child's emotional needs, your child will grow up with a secure attachment style". People who have developed this type of attachment are self-contented, social, warm, and easy to connect to. They are aware of and able to express their feelings. So, to meet their needs, we also need to look at YOU as a parent! I know you're doing your best in trying to accommodate your child's needs.
If you want to know when good enough is good enough as a parent, these parenting tips and many more with a fun twist you can expect on the workshop.
Join the Esteem Child Parenting Facebook Group if you want to learn more about how to stop feeling guilty, how to create opportunities for growth, learning and meaningful engagement with your child and enjoy life as a parent, finally!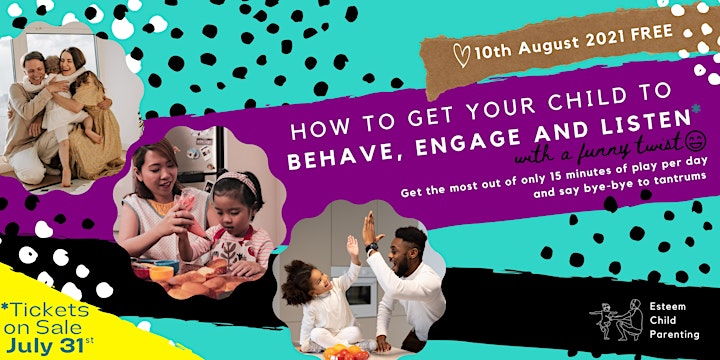 Organiser of How to get your child to behave, engage and listen with a funny twist