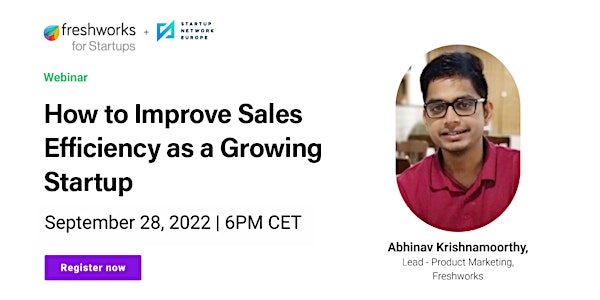 How to Improve Sales Efficiency as a Growing Startup
Join this webinar for startups to learn the best practices in B2B Sales & Marketing, Customer Engagement Strategy, and CRM.
About this event
As a startup, juggling a patchwork of sales tools can wear out your sales reps and eat into your team's productivity.
To stay nimble, move fast and ensure sales conversions, startup sales reps need a single tool - a unified sales CRM ; which can act as definitive solution to improve sales efficiency.
Join us for a masterclass led by Abhinav Krishnamoorthy, Lead Product Marketing, Freshworks Inc (FRSH), who has deep expertise in Startup Sales & Marketing functions to learn:
How to identify & track important sales metrics for a growing startup
How to use automation to improve your prospect/customer engagement strategy
How to improve your sales pipeline & improve sales conversions
Get tips and Tricks to crack all things: B2B Sales & Marketing, Customer engagement strategy, CRM
✌️ Through the Freshworks for Startups program, attendees of the session will gain FREE access to credits worth -$10,000 on essential products across helpdesk, livechat, CRM, marketing automation, ITSM, HRMS and much more!
Zoom Link: https://freshworks.zoom.us/webinar/register/7016621102169/WN_GmSWAmcWTZOMQBk4keTE-Q
Speaker Information
Speaker name: Abhinav Krishnamoorthy
Speaker Designation: Lead - Product Marketing @Freshworks
Speaker bio: Abhinav Krishnamoorthy leads Product Marketing at Freshworks. Over the past 5 years, he has worked with multiple leading companies to setup and scale - high performing sales & marketing teams. He was awarded "Young Leader Award" by Wipro Technologies for building a comprehensive cross and up-selling plan for their services.
---
By signing up to this event, registrants agree to allow Startup Network Europe and Freshworks to contact them regarding their registration and attendance at the event. The data that is collected will also be shared by Startup Network Europe and the event sponsors for post-event follow up communications, such as new event announcements, newsletter updates and sales & marketing outreach. This event will also be recorded and published on online video-sharing platforms such as YouTube.