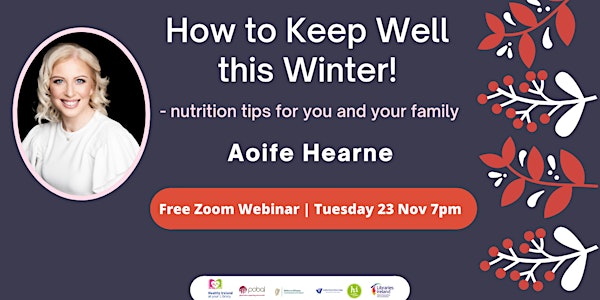 How to Keep Well this Winter - nutrition tips for you and your family
How to Keep Well this Winter! Free Zoom webinar on nutrition tips for you and your family with Aoife Hearne on Tuesday 23rd November at 7pm.
About this event
Join registered dietitian, broadcaster and author, Aoife Hearne to hear her expert nutrition tips on how to keep well this winter for you and all your family in this free Zoom webinar on Tuesday 23rd November at 7pm.
A recording of this webinar will be avilable to view through our Library Facebook page for up to 24hrs after this event.
This webinar is part of the Waterford Healthy Ireland at your Library initiative. For more information, please go to our website here, phone 0761 102974 or email library@waterfordouncil.ie .
Aoife Hearne is a Registered Dietitian and a member of the Irish Nutrition and Dietetic Institute, the professional body for Dietitians in Ireland. She is well known for her role as the leading nutrition expert on RTÉ One's Operation Transformation. The IFTA winning health and fitness show has a viewership in excess of 600,000 every year. In 2020, Aoife took part in a special COVID-19 series of Operation Transformation called Keeping Well Apart. Aoife previously wrote a weekly column in The Irish Examiner where she looked at a different aspect of childhood nutrition each week.
In 2016, Aoife released her book The Plan . In this she brings together recipes and practical advice needed to reach and maintain a healthy weight for life. As well as delicious, accessible breakfasts, lunches and dinners, The Plan contains expert advice and strategies for healthy living and is available to borrow through your local library. Aoife regularly works with Bord Bia across a number of their key events.
Aoife started her career in the United States where she went on an athletic scholarship to study nutrition at The University of Tennessee. She went on to complete a dietetic internship at the world-renowned Massachusetts General Hospital, Boston. After qualifying as a Registered Dietitian, she worked as a Clinical Dietitian in Savannah, Georgia at Memorial Health University Medical Centre. Aoife returned home from the United States in 2005 and established Nutrition Solutions in Waterford City. Since then, she has made a significant contribution to the South East's medical infrastructure by providing a professional private nutrition consultancy service. Aoife works closely with local GP's and also provides nutrition services to schools, industry, sports teams and community groups.
Aoife has a strong personal background in sport. She was a member of the national track and field team from 1994-2000 and was National Senior Champion in the 100m in 1997. In 2012, Aoife completed a Master's Degree at Coventry University in Sports and Exercise Nutrition. She has worked with many elite athletes from a number of different sports including the Tipperary Senior Hurling panel since 2009.