Description

---
Friday 13th May 2016
10am - 12.30pm: Crowne Plaza Hotel Northwood, Santry, Dublin 9
---
Time is one of your most valuable assets and figuring out how to manage it (or gain more of it) can have an incredible impact on your business and your life.
The best use of your time as a business owner is not troubleshooting, being the number one contact for your customers or rectifying problems your team have made, but is in seeing new business opportunities, providing leadership and mapping out the future of the business.
By developing good time management strategies, you can find easy ways to become more productive and increase your profits. It's all about working smarter, not harder!
At this information packed 2 hour workshop, you will learn:
10 proven successful time management techniques.
How to develop your schedule around cash-flow generating and profit-making strategies rather than troubleshooting.
Tools to better understand and manage your current use of time.
How to focus on and prioritise the most important tasks for your business.
This workshop promises to be both enjoyable and insightful. It will teach you time management techniques to guarantee results in your business, and buy you back more time to spend on the things you want to do!
---
Warning: Seats are limited so this workshop will fill up fast.
Book Your Place TODAY to ensure you don't miss out!
---
Results Achieved By Our Clients...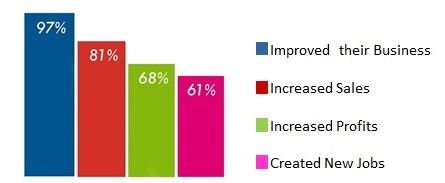 What participants

are saying about our workshops...
I am very grateful for this workshop, Thank you! This workshop was very helpful and will help me to identify the different categories and roles so I can delegate to my staff so my time will be spent on more important things that will grow the business. Guardian Safety
I learned "eating the frog" as it will make my day more productive. I am going to make a default diary and stick to it. Sweet Cicely
From the workshop I have learned that I have not be concentrating my time in getting more business in the door but in doing other office work. The Duke
I learned I need to get more out of my day by working on the important tasks and I need to stop getting distracted with unimportant duties. Renewel Water
Listen - Learn - Work - Join us
---