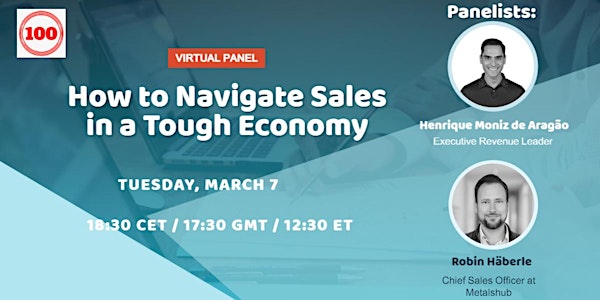 How to Navigate Sales in a Tough Economy
Ideas on what sales leaders and individual contributors could do to stay on top of their game in 2023.
Date and time
Tue, 7 Mar 2023 09:30 - 10:15 PST
About this event
Our chat is led by Henrique Moniz de Aragão, Executive Revenue Leader in Tech and Robin Häberle, Chief Sales Officer at Metalshub.
Panel discussion
Current trends, challenges and what to expect in Tech in 2023 at the macro level
Strategies available and the impact on pipeline generation, deal execution and renewals & expansion
What adjustments could revenue leaders make, and how to communicate them
What can sales leaders and team members do to support one another
Our speakers:
Henrique Moniz de Aragão - Executive Revenue Leader in Tech
Henrique is a B2B technology leader with 15+ years experience in software services and product sales, both in startups and public companies. He has held revenue leadership positions at Accenture, Salesforce, G2 and most recently Ultimate AI. Originally from Brazil, he lives in London with his wife Laura and daughter Allegra.
Robin Häberle - Chief Sales Officer at Metalshub
Global leader with 15 years of experience in building direct and indirect Go-To- Market success for emerging technologies, recognized by over 8 sales excellence awards. Currently leading the Go-To-Market organisation of Metalshub, a series A Start-Up specialized on SaaS solutions for the metals and mining industry. Outside of work, Robin has strong credentials in angel / early investment and entrepreneurship.
About Metalshub:
Metalshub is one of the pioneers of digital transformation in the metals industry. They are a technology company that provides supply chain solutions for the metals and mining industry to promote efficiency and transparency.
Q & A
---
Registration is necessary, please fill out the form and we'll confirm and send you the Zoom link.
---
1. Who is this event for?
This event is for Sales professionals and leaders in the Tech space.
2. How do I join this virtual event?
After you register for the event, we'll send you the Zoom link and the meeting ID.
3. Can I invite my friend or colleague?
Please invite your colleagues. We have limited places available, so please make sure to sign up early.
4. What if I no longer can join?
If for whatever reason you can no longer attend, please cancel your ticket via the app or send us an email to info@club100b2b.com
5. Why do you need my contact details?
We need your contact details in order to be able to inform you about our upcoming events and gather feedback from you for future topics/speakers. If you no longer wish to be part of our network, you can unsubscribe from our mailing list any time.
6. I signed up for the event but I didn't get the confirmation.
Please contact us via email: info@club100b2b.com
---
About Club 100 Sales
Club 100 is a vibrant, inclusive community of ambitious Sales professionals and leaders representing thriving industries in the Tech space.
We focus on the hottest and fastest growing industries including Life Sciences, Fintech, Blockchain, Cybersecurity, AI and others.
We provide virtual and in-person events (in Berlin) as well as an online community platform that helps our members build their network, maximize their earnings potential and accelerate their career development.
Our members represent local, regional and global organizations from various industry sectors in enterprise technology.
Follow us on LinkedIn: https://www.linkedin.com/company/76359963
Henrique: https://www.linkedin.com/in/henriquearagao/
Robin: https://www.linkedin.com/in/robin-haeberle/
Csaba: https://www.linkedin.com/in/csababujna/
Stay up to date with all of our events here: https://club100b2b.mailchimpsites.com/