Description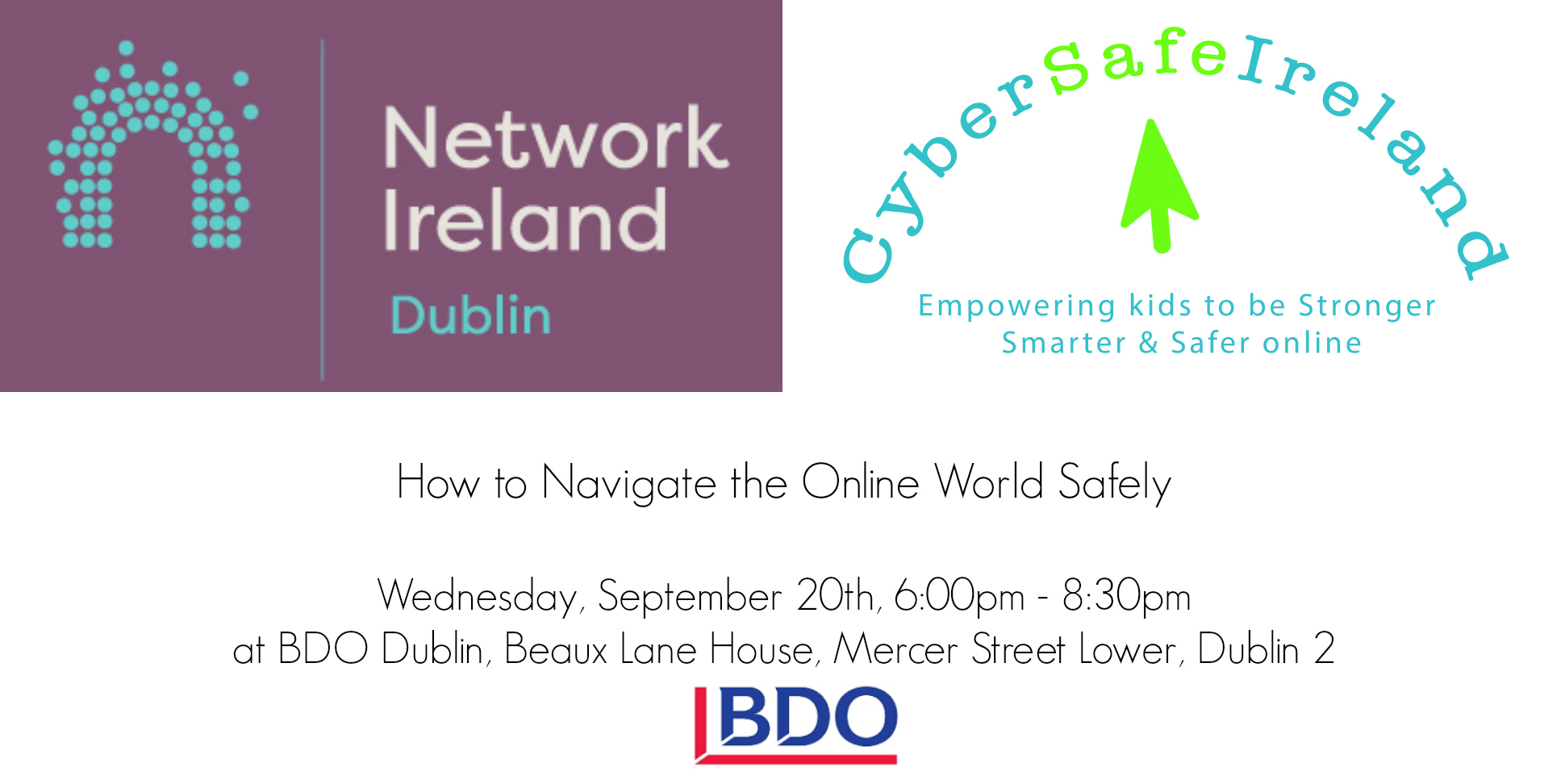 Join us on Wednesday, September 20th to learn "How to Navigate the Online World Safely" with Cliona Curley, Programme Director, CyberSafeIreland
Cliona will provide an introduction to CyberSafeIreland. She will also talk about what children are doing online, and provide tips for parents on how to help them become stronger, smarter and safer online. Finally, she will share some thoughts on how to manage your own digital reputation and navigate the online world safely and securely.
This event is kindly hosted by BDO Dublin, our venue partner, at their offices at Beaux Lane House, Mercer Street Lower, Dublin 2. Click HERE for directions via Google Maps.
Agenda:
6:00pm - Registration and Networking
6:45 pm - Welcome and Introduction: Marie Nugent Smyth, President Network Dublin, and Brían Gartlan, Partner, Risk & Advisory Services
7:00 pm - Cliona Curley, Programme Director, CyberSafeIreland
7:30 pm - Networking
About the Speaker: Cliona Curley, Programme Director, CyberSafeIreland
Cliona specialises in cybercrime analysis and investigation. From 2005 to 2013, she worked as a senior officer for the UK National High Tech Crime Unit (NHTCU) and the Serious Organised Crime Agency (SOCA). During this time, she represented the UK on many occasions on G8 and Interpol working groups as well as working on investigations into organised crime in conjunction with major European and US law enforcement agencies.
After returning to Ireland, Cliona joined the Centre for Cybersecurity and Cybercrime investigation in UCD, building forensic tools for law enforcement, as well as developing and delivering training in cybercrime investigation and related areas for An Garda Siochana and law enforcement agencies across Europe. Since 2014, she has delivered online safety sessions in Irish primary schools. She is passionate about protecting children online and believes that education is crucial. This was a strong motivating factor for the establishment of CyberSafeIreland CLG in 2015.
About CyberSafeIreland
CyberSafeIreland is a not-for-profit organisation, established in 2015, that works to empower children, parents and teachers to navigate the online world in a safe and responsible manner. Our founders have backgrounds in cybercrime investigation, law enforcement, forensic psychology, online child protection, academia and the not-for-profit sector. As parents of young children, we can see on a daily basis how technology is going to play an increasingly important part of their futures. It will be used more widely in schools and even a fairly basic mobile phone these days will allow a child the ability to take risks almost unthinkable 20 years ago. We want our children to be able to embrace the opportunities for learning and enjoyment that technology can deliver, but we recognise that as parents and educators we have a responsibility to equip them with the tools to stay safe and avoid harm.
We believe that everybody can play a role in keeping children safe online, including children themselves. Education is a key part of the solution and both schools and parents have a vital role to play in supporting children to be safe online.