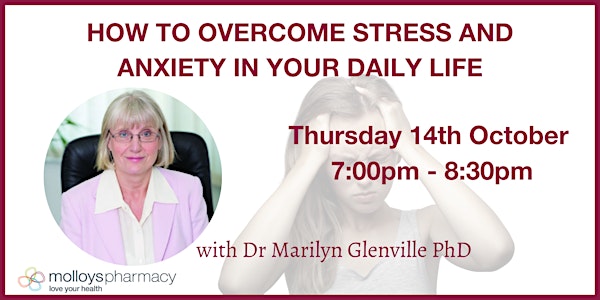 How To Overcome Stress and Anxiety In Your Daily Life
James Geraghty M.P.S.I is joined by Dr Marilyn Glenville PhD to discuss practical ways to overcome stress and anxiety in your daily life.
About this event
Stress? Anxiety? Does this sound all too familiar in your life? The effects of chronic stress are enormous: mood swings, anxiety, irritability, nervousness, aggressive outbursts, fatigue, palpitations, forgetfulness, confusion, inability to concentrate, crying spells, insomnia, headaches, aches and pains, muscle cramps, digestive problems, and food cravings. Don't underestimate the damage it can do.
Molloys Lifestyle Pharmacies are honoured to once again be hosting Dr Glenville in the free online webinar.
Don't miss this opportunity to hear and see Dr Marilyn Glenville PhD, the UK's leading nutritionist specialising in women's health.
Discover the practical ways that will help you control the stress in your life.
Dr Glenville's live webinar will cover:
• Practical day-day tips for helping to reduce your stress levels
• How stress can cause mood swings, skin problems, sleep disturbances, lack of energy, digestive problems like bloating and flatulence, aches and pains, headaches, hormonal problems, muscle pains and cramps
• How stress makes you put on weight around the middle
• Why stress can weaken your immune function leaving you more vulnerable to infection and your body's ability to recover quickly may be compromised
• The surprising fact that how and when you eat can be making you feel more stressed than you should be
• What vitamins, minerals and herbs to take to help you cope better when stressed
• How stress changes your appetite and gives you cravings
• Discover how stress affects you mentally and emotionally and can lead to problems like anxiety, panic attacks and depression
• How to get your brain to 'switch off' so you can go to sleep, practical tips
• Why exercise is helpful for reducing stress
Dr Glenville will be joined by Sorcha Molloy who is an experienced nutritionist with Glenville Nutrition in Ireland and has lectured on women's health in NUIG as part of the GP post-graduate programme. Sorcha has also lectured undergraduate nutrition students with CNM and writes a regular monthly column with the popular magazine Galway Now.
The Glenville Nutrition Ireland team in Dublin and Galway help patients online and by phone with many different health issues, including stress, digestive issues, hormone health, immune support and fertility. Sorcha will be presenting a Stress and Anxiety case study.
There will be time for questions and answers in this webinar which will also be recorded so you can watch it again at your convenience.