Description
Want to learn how to dream up and make your own audio podcast?
Then join us on
Sunday May 26th

for a podcasting skills workshop designed to get you telling audio stories online. Full day workshop with limited numbers - just 12 in this session.
Athena Media is an award winning digital audio agency and it's the force behind Podcasting Ireland. We've been making podcasts since 2006 and have run sponsored audio podcast channels in both music and speech.
Our podcasts include
The Family of Things
hosted by Helen Shaw who will lead this workshop and our regular radio/podcast shows including
Pantisocracy
,
Wilde Stories
and
Vocal Chords
- with over 200 uploads on our
Soundcloud channel
.
This one day workshop is designed for podcast beginners and will take participants from idea to online, showing people how to get their own audio show together and online.
The workshop will cover how to record using a mobile recorder like a
Zoom H4n
and participants will be encouraged to bring a mobile recorder to the workshop.
It will introduce people to basic editing and show people how to release their audio online.



*note: Workshop cost is €150, with a €7.98 booking fee charged by Eventbrite
The Athena Media team delivering this workshop is Helen Shaw & John Howard
Their audio work has won six Golds at the New York Radio Festival and besides podcasts they make award winning audio for radio broadcasters including the BBC, RTÉ and Newstalk.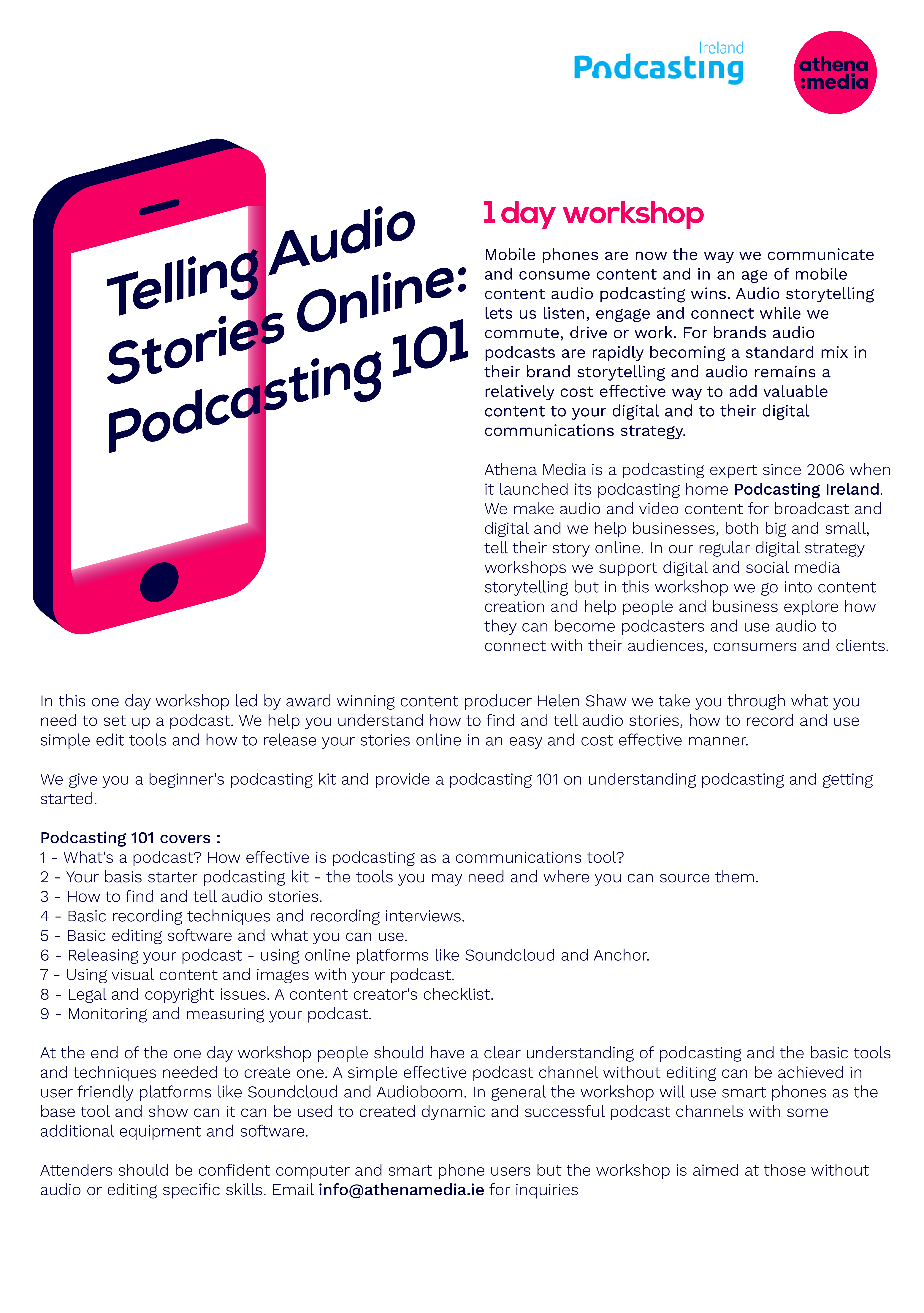 Organiser of How to Podcast - Telling Audio Stories Online
Athena Media Training helps people and businesses to tell their story better online. We provide digital strategy, online communications, social media and digital content. We also provide bespoke training designed specifically for you - call us!. We have developed and designed workshops and training modules for organisations including The Irish Times, The HEA, Arts Council Ireland and Dublin Institute of Technology.
Athena Media is a leading provider of digital and social media training and we have been podcasting since 2006 running www.podcastingireland.ie  Our workshops are led by our founder /CEO, Helen Shaw, who is an experienced broadcast, digital media and communications expert. Our Podcasting workshops in 2018 are being run in Windmill Lane Recording Studios in Dublin find out more on www.podcastingireland.ie