Event Information
Location
Pulse College, Windmill Lane Recording Studios,
20 Ringsend Road
D4 Dublin
Ireland
Description
Want to learn how to dream up and make your own audio podcast?
Then join us on
Sunday September 22nd

for a podcasting skills workshop designed to get you telling audio stories online. Full day workshop with limited numbers - just 10 in this session.
Athena Media is an award winning digital audio agency and it's the force behind Podcasting Ireland. We've been making podcasts since 2006 and have run sponsored audio podcast channels in both music and speech.
Our podcasts include
The Family of Things
hosted by Helen Shaw who will lead this workshop and our regular radio/podcast shows including
Pantisocracy
,
Wilde Stories
and
Vocal Chords
. The Family of Things is a Finalist in the New York Radio Festival and Awards 2019.
This one day workshop is designed for podcast beginners and will take participants from idea to online, showing people how to get their own audio show together and online.
The workshop will cover how to record using a mobile recorder like a
Zoom H4n
and participants will be encouraged to bring a mobile recorder, if they have one, to the workshop.
It will introduce people to basic editing and show people how to release their audio online.



*note: Workshop cost is €160, with a booking fee charged by Eventbrite
The Athena Media team delivering this workshop is Helen Shaw & John Howard
Their audio work has won six Golds at the New York Radio Festiva two TORC awards at the Celtic Media Festival and Gold PPI Irish Radio Awards. Besides podcasts they make award winning audio for radio broadcasters including the BBC, RTÉ and Newstalk.
Podcasting 101 covers :
What's a podcast? And why do we love them?

What are the most popular formats and genres?

What do you need to get started? We show you hand held recorders like Zoom H4 and introduce you to sound recording, microphones and setting up a mini studio.

How do you find and tell audio stories

?

How do you shape an interview?

We introduce you to Audacity and the basics of thinking about editing.

How do you release and host your podcast? We introduce you to platforms like Anchor which distribute your podcast to 10 platforms including Spotify and iTunes.

Why you still need visual content for audio stories and how to think about your website working with your podcast.

You become a publisher when you release a podcast so what are the legal and consent issues you need to be aware of?

Content management, monitoring and measuring the success of your podcast.

Marketing and social media

Wrap and recap.
At the end of the one day workshop session people should have a clear understanding of podcasting and the basic tools and techniques needed to create one. People can download free software like
Audacity
in advance to get familiar with it, they can set up free accounts on Anchor and Soundcloud and explore and play with recording and their own voice using their smartphone in advance as it will help them engage and learn. On the day you will have access to an iMac for the editing introduction with John but you are free to bring your own mobile tool, if it is wifi enabled, and work on it if you prefer and if you already have a mobile handheld recorder like a Zoom recorder do bring it along. John will also share the participants survey with you to complete which gives us an idea of your skills and experience but it is completely fine to be a total beginner.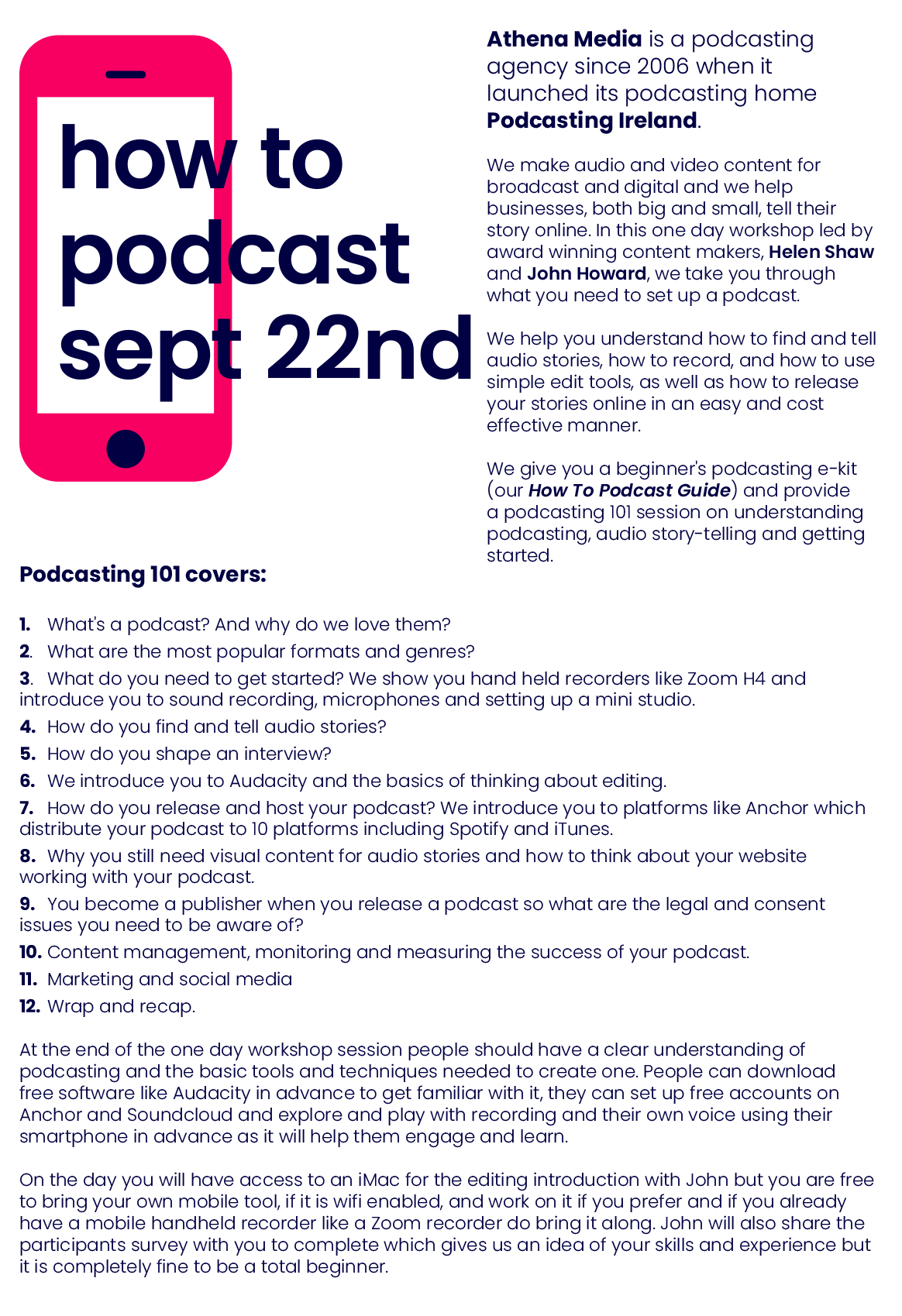 Date and time
Location
Pulse College, Windmill Lane Recording Studios,
20 Ringsend Road
D4 Dublin
Ireland