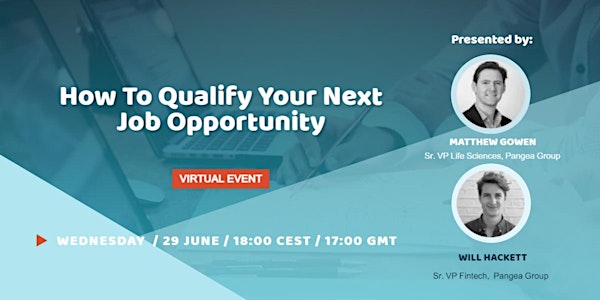 How To Qualify Your Next Job Opportunity
How should you evaluate your next opportunity from a role, team, company, process and package perspective
About this event
Our chat is led by Matthew Gowen and Will Hackett, Sr. Vice President at Pangea Group.
Panel discussion
How to ensure that you are selecting the right company where you can reach your full potential
What factors to consider when thinking about the role - domain, management, opportunity, culture, investment structure, competitive landscape
How to think about the package - salary, commission, equity etc.
How to think about the recruitment process and yellow flags to look out for
Our panelists:
Matthew Gowen:
Matthew has built and led high performance sales teams for over a decade. He interviewed 1,000+ sales people, hired 100+ and helped them to develop their skills and career in enterprise sales
Matthew currently serves as Sr. Vice President Life Sciences at Pangea Group, a go-to-market platform partnering with the world's most ambitious tech firms
Will Hackett:
Will Hackett has spent his career working at both publicly listed and VC/PE backed financial technology companies. On that journey he's had meaningful returns from equity at great companies, as well as huge flops which he has hopefully(!) learnt from
Now, Will is at Pangea where he helps launch scale ups into new markets with a particular focus on Fintech.
---
Registration is necessary, please fill out the form and we'll confirm and send you the Zoom link.
---
1. Who is this event for?
This event is for B2B and Sales professionals and leaders in the Tech space.
2. How do I join this virtual event?
After you register for the event, we'll send you the Zoom link and the meeting ID.
3. Can I invite my friend or colleague?
Please invite your colleagues. We have limited places available, so please make sure to sign up early.
4. What if I no longer can join?
If for whatever reason you can no longer attend, please cancel your ticket via the app or send us an email to info@club100b2b.com
5. Why do you need my contact details?
We need your contact details in order to be able to inform you about our upcoming events and gather feedback from you for future topics/speakers. If you no longer wish to be part of our network, you can unsubscribe from our mailing list any time.
6. I signed up for the event but I didn't get the confirmation.
Please contact us via email: info@club100b2b.com
---
About Club 100 B2B
Club 100 is a vibrant, inclusive community of ambitious Sales professionals and leaders representing thriving industries in the Tech space.
We focus on the hottest and fastest growing industries including Life Sciences, Fintech, Blockchain, Cybersecurity, AI and others.
We provide virtual and in-person events as well as an online community platform that helps our members build their network, maximize their earnings potential and accelerate their career development.
We are SDRs, BDRs, Account Managers, Team Leaders, Sales Directors, VPs, C-Level Executives and Founders - all of us with the same goal: to reach our full potential and succeed in life!
Follow us on Linkedin: https://www.linkedin.com/company/76359963
Join our community for more events and content: https://lu.ma/club100b2b