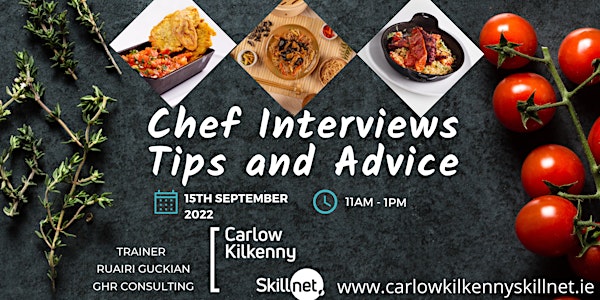 How to Recruit Chefs
How to Recruit a Chef
About this event
This free workshop will be delivered by Ruairi Guckian from GHR Consulting.
As we all know, at present there are challenges in recruiting and retaining staff. This is true of every sector but it is particularly the case in the hospitality sector. There are up to 40,000 vacancies in the tourism sector as a result of the Covid pandemic restrictions, research by Fáilte Ireland shows.
Restaurant and hotel owners say the recruitment of chefs and other hospitality staff is now taking several months, with many forced to recruit staff from abroad as the tourism season kicks off.
One hotel owner of O'Connor's Seafood restaurant in Bantry, Co Cork, Shane Spillane, said prior to the Covid pandemic, he would have received up to 100 applications for a post.
"Now, you would be lucky to get five for one position," he said.
Join us on 15th September from 11am - 1pm where Ruairi will cover the following topics:
1. Job Specification: Guidance for drawing up a job specification: outline of the role responsibilities and the experience/qualifications the ideal candidate would possess. Include any benefits that may entice a wider range of candidates to apply
2. Advertising: Ensuring the Job Specification is advertised on a broad range of job boards that will reach the target candidates
3. Hiring Process: How to set up interviews with a panel of relevant managers to ensure the most suitable candidate is chosen who is fit for the job
4. Visa Requirements: How to open up the talent pool to chefs overseas in line with current visa requirements
5. Current Market Challenges: Discussing the challenges in the current job market in Ireland and how to overcome them