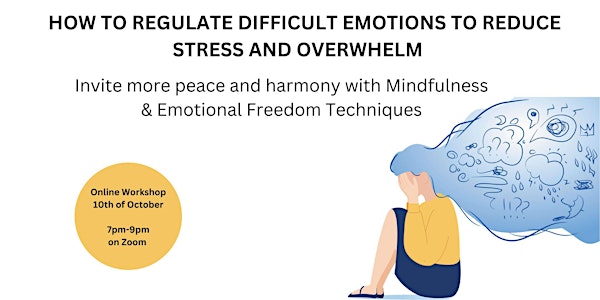 HOW TO REGULATE DIFFICULT EMOTIONS TO REDUCE STRESS AND OVERWHELM
Invite more peace and harmony with Mindfulness and Emotional Freedom Techniques
About this event
Do you often feel that your emotions, feelings and thoughts are beyond your control and cause overwhelming stress?
Are you looking for more effective ways to manage difficult emotions like fear, sadness, anger, anxiety, worry and more?
Our emotions are fundamental to our happiness and wellbeing. In this workshop you will learn and experience the mindful and emotional techniques to keep you in balance, in control and at peace. These techniques can be used to great effect to regulate your nervous system, bring more peace, resilience and release difficult emotions, stressful memories and physical symptoms associated with stress.
After this workshop:
You will have a stronger understanding of your emotions and what they feel like in your body.
You will learn how to turn towards a difficult emotion rather than turning away.
You will feel comfortable expressing your emotions in a safe manner.
You will have more control over your emotions, and you will be able to manage emotional states quickly and easily.
You will be able to regulate your nervous system and increase stress resilience with help of simple techniques.
You will feel more peace, harmony and acceptance towards your emotions and feelings.
In this online workshop we will cover:
The role of emotions in our life and the importance of recognizing, allowing and accepting our emotions.
The importance of adopting a kinder and more compassionate approach.
Simple yet effective mindfulness tools to process your emotions.
How to use basic Emotional Freedom Technique as a self- help tool to reduce stress and release difficult emotions.
How to support your nervous system on a daily basis and be able to cope well when you face change and difficult situations in your life.
What to expect:
The workshop will be a combination of teaching, practical experiences, self - reflection and optional sharing but it is not obligatory.
We recommend you bring a notebook with you and create a quiet and intimate space for yourself during the call.
Hosted by:
Aurora: Mindfulness & Meditation teacher, Forest Bathing practitioner.
After embarking on a journey of personal development through coaching, meditation and mindful writing practices, Aurora decided to attend the Being Present Mindfulness training (MBLC) with the Sanctuary in Dublin and became a mindfulness teacher.
As a Forest Bathing practitioner, she helps people to connect with Nature in a mindful, joyful and playful way. She truly believes Nature is our greatest teacher and we can learn many things from It.
Her commitment is supporting people to find an empowering way that allows them to live a healthier and happier life by sharing her knowledge and experience.
Currently she's hosting workshops at the Sanctuary as well as online meditation sessions for people with intellectual disabilities and their assistants for L'Arche Kilkenny.
Connect with Aurora
Website mycommunityspace.net
Instagram @my_communityspace
Justyna Michalow: Ayurveda health coach, educator & therapist, and EFT practitioner. Member of the International Practitioners of Holistic Medicine (IPHM) Association for Holistic Medicine Practitioners.
Her mission is to teach the body – mind connection to develop deeper self-awareness, emotional intelligence and ability to respond to symptoms before they turn into a disease.
Justyna is especially passionate about facilitating emotional support & breathwork for those suffering from chronic stress, anxiety, depression, grief and emotional overwhelm offering EFT sessions, holistic coaching and Vedic counselling.
Ayurveda, Yoga and Emotional Freedom Techniques have played a major role in her personal healing and now she offers her support, compassion, empathy, life experience and knowledge to those who are ready to transform, heal and live the way they desire.
Connect with Justyna via Instagram @justyna_holistichealing
ANY QUESTION- DO NOT HESITATE TO ASK.
procopioa82@gmail.com or justyna.michalow@gmail.com