Learn to use memory trigger techniques to improve your interpreting skills and make your assignments less stressful and more enjoyable
About this event
/NB: for an on-demand online course option see below/
Memory is one of the psychological phenomena that still baffles scientists. Sometimes we struggle to remember the simplest things; other times, we quickly remember and recall the most complex concepts and ideas. And, as any interpreter knows, sometimes the very thing that you have learned and memorised before the assignment, is the thing that you cannot recall when it's needed.
To avoid memory blackholes during your interpreting assignment, we need to know and practice various memory trigger techniques. Memory triggering refers to an act that allows for even a well-buried memory to surface: in the same way a memory of your granny surfaces up when you smell a spice that she loved to use in her cooking.
We can learn to create and use specific memory triggers, rather than just relying on random triggers surfacing while you interpret.
During this workshop, we will learn and practice the Visual memory trigger technique, which is arguably the most powerful one, and concentrate on its very exciting variation - the Memory Palace technique.
We will briefly cover the other memory trigger options, such as narrative, logical, structural and combined triggers.
We will also touch upon note-taking as a memory trigger technique. This will be followed by a separate masterclass on Note-taking Techniques for Interpreters on March, 9th (more information here).
How will you benefit from this Webinar:
you will learn to create and use various types of memory triggers
you will improve your interpreting skills
you will find interpreting more fluent and enjoyable
This online workshop is designed for consecutive interpreters with beginner and intermediate levels of experience.
Please subscribe, and you will receive the link to the webinar before the event.
On-Demand Online training option:
NB: The contents of this webinar, including the presentation and all exercises is now avaiable within the new on-demand online course that you can complete in your own time. This online course also includes the contents of the "Note-Taking for Interpreters" masterclass. To get your life-time access to the on-demand training course please use this link.
Thank you!
Please send any questions about the workshop to talent@translit.ie.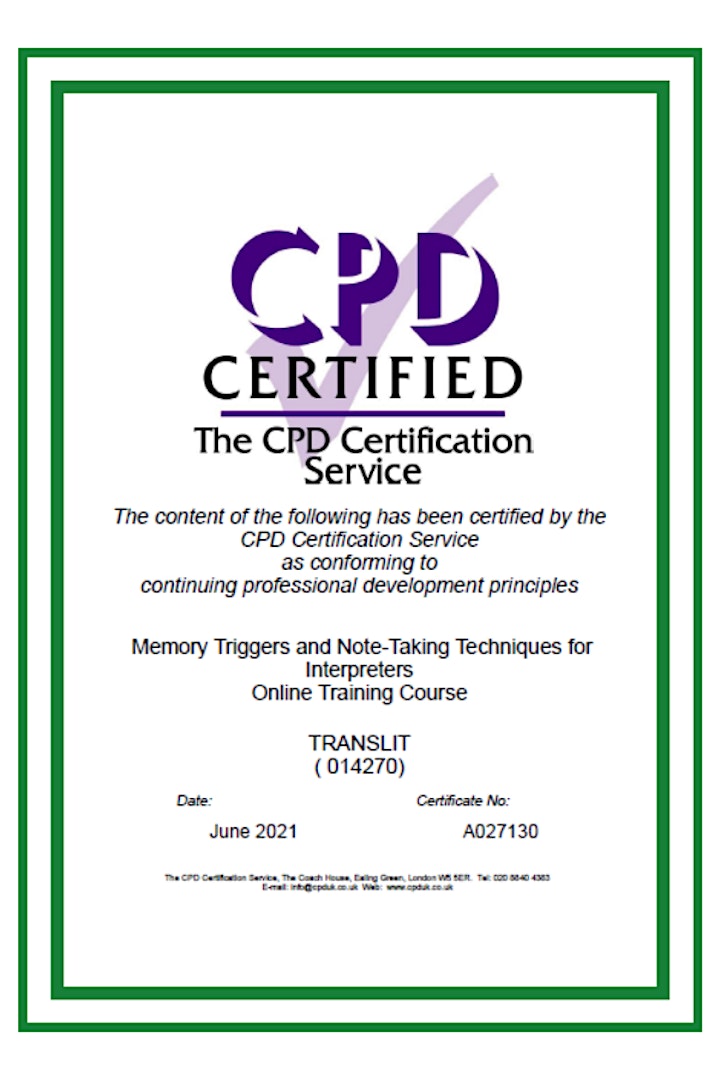 Testimonials
"I strongly recommend these webinars! Very useful!" - Cristina Ionita
"The webinar was useful, engaging and very interactive. I am looking forward to attending another online event - Ala Matasaru
"It was such an excellent and useful webinar, thank you so much!" - Webinar attendee
Organiser of How to Use Memory Triggers in Interpreting - Online Masterclass
TRANSLIT Pro is a training branch of TRANSLIT - language service provider based in Ireland. TRANSLIT Pro provides support to freelance interpreters by offering them a range of training webinars, courses and programmes. TRANSLIT is also the creator of translit.com - a centralised interpreting platform where interpreters and clients can meet and conduct business, and of TRANSLIT RSI application for the language industry.