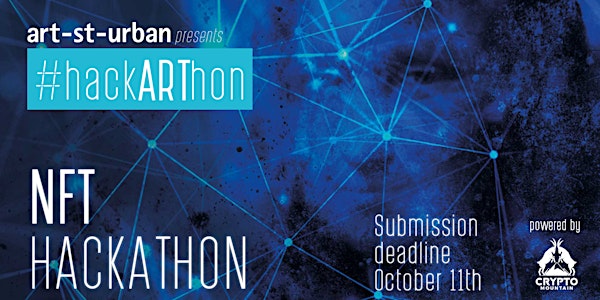 How to win a Hackathon - Check-in for a POWER Weekend
HackARThon: Get advice from a winner.
About this event
Learn from a winner.
Back in Summer 2021 VR-All-Art won the global hackathon offered by Solana. Vitomir Jevremovic, Founder and CEO and his team reserved 1 hour to give you some advice on how to shape your project for the win.
Vitomir Jevremovic
Founder and CEO of VR-All-Art, the first platform for artists, galleries, and museums to exhibit and trade art on a blockchain through virtual, mixed and augmented reality. Vitomir has been running a development company Digital Mind, creating VR, AR, web and mobile applications in the fields of marketing, culture, and education. He has been involved in marketing, digital production and development for more than 20 years, working on various projects from software tools in archeology to interactive 3D reconstructions of ancient sites, computer and mobile games, interactive installations, animated movies and now Virtual Reality projects. He has a degree in archeology and a passion for digital museums and arts. Author of the first virtual reality museum of Nikola Tesla. Cryptoenthusiast with faith in disruption.
What else happens during the HackARThon NFT POWER WEEK?
MONDAY, 4 October, 5pm: ArtTalk: My NFT Journey as Artist and Collector
TUESDAY, 5 October, 5pm: NFTs in Virtual Reality - Meet VR-All-Art & SolSea
WEDNESDAY, 6 October, 5pm: Check-in Webinar Persistence
WEDNESDAY, 6 October, 6pm: Check-in Webinar Solana
THURSDAY, 7 October, 5pm: ArtTalk: Is Tech ready for NFT?
Join now our hackarthon and learn more about new opportunities for you as artist and collector to embark into the METAVERSE. Mingle with like-minded people, mentors and coders using our HackARThon Discord channel and enjoy a diverse program of online webinars and sessions.
This initiative is presented by art-st-urban and organized by CrypoMountain.
Art-st-urban
art-st-urban, located at the monastery of St.Urban, Switzerland, is an unique art & cultural platform for art exhibitions, art education, art & music festivals, and art funding, run by Gertrud & Heinz Aeschlimann, founder of the "Young Artist in Residence Programs " (artists and musicians), an art incubator for global art talents. To learn more please visit: https://art-st-urban.com