Description
Hochqualifizierte Fachkräfte zu finden und über die Dauer des Recruitingprozesses zu motivieren, erfordert innovative Ideen und Mut zur Kreativität. Eine geeignete Strategie für die Bewerbererfahrung ist hierbei essentiell. Diesem spannenden Thema widmen sich Top Experten der Industrie in der nächsten Ausgabe des HRinTech Events organisiert von Honeypot.
Neugierig zu erfahren, wie andere Unternehmen sich mit dem Thema "Candidate Experience" auseinandersetzen? Und bist du bereits gespannt darauf, dich zu diesem Thema mit anderen Recruitern und HR-lern auszutauschen?
Dann bist du herzlich dazu eingeladen am 28. November 2018, um 18:30 Uhr, in das eGym Office in der alten Bayerischen Staatsbank, zu kommen!
Essen und Getränke werden von eGym gestellt!
Die Präsentationen werden auf Englisch gehalten!


---
Programm:
18:30 Uhr: Empfang, Getränke und Essen
19.00 Uhr: Bruno Monteiro, Director of Software Engineering bei eGym
19.30 Uhr: Hendrik Seiler, Co-Founder bei Talentcube
20.00 Uhr: Interaktive Podiumsdiskussion mit: Irina Hagen, Hendrik Seiler & Bruno Monteiro
20.30 Uhr: Getränke und Networking
---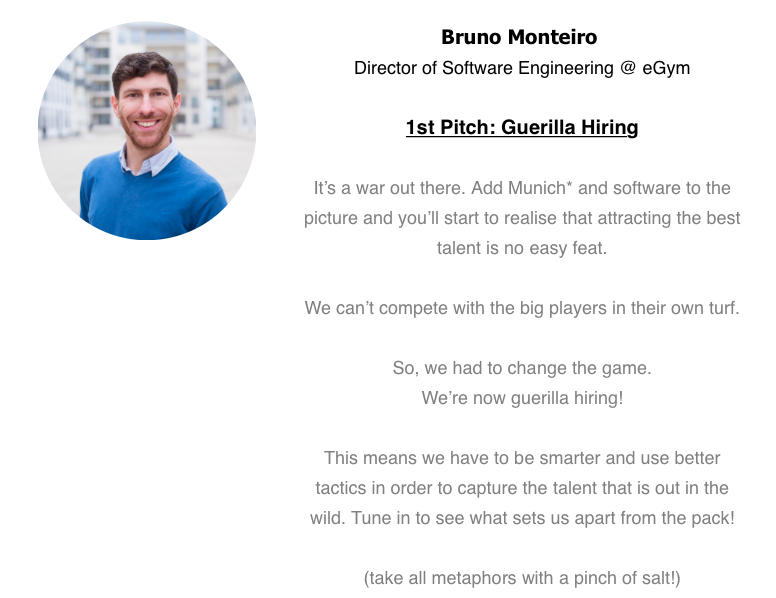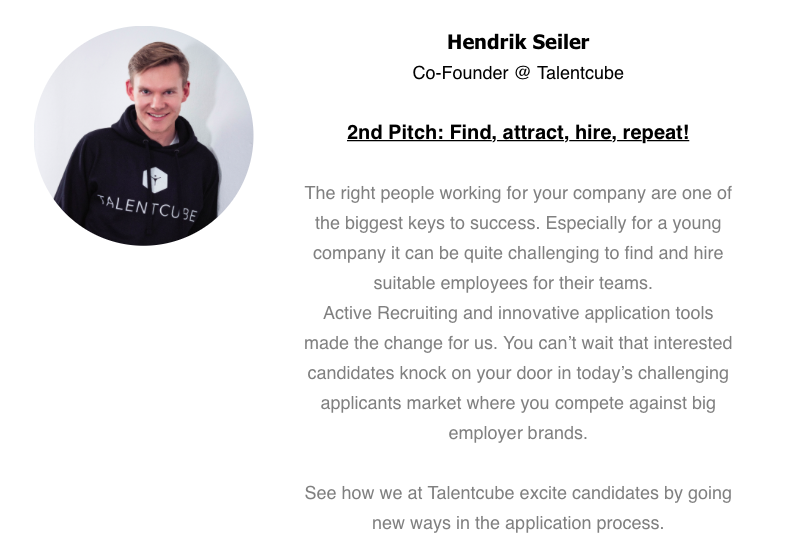 ---
Panel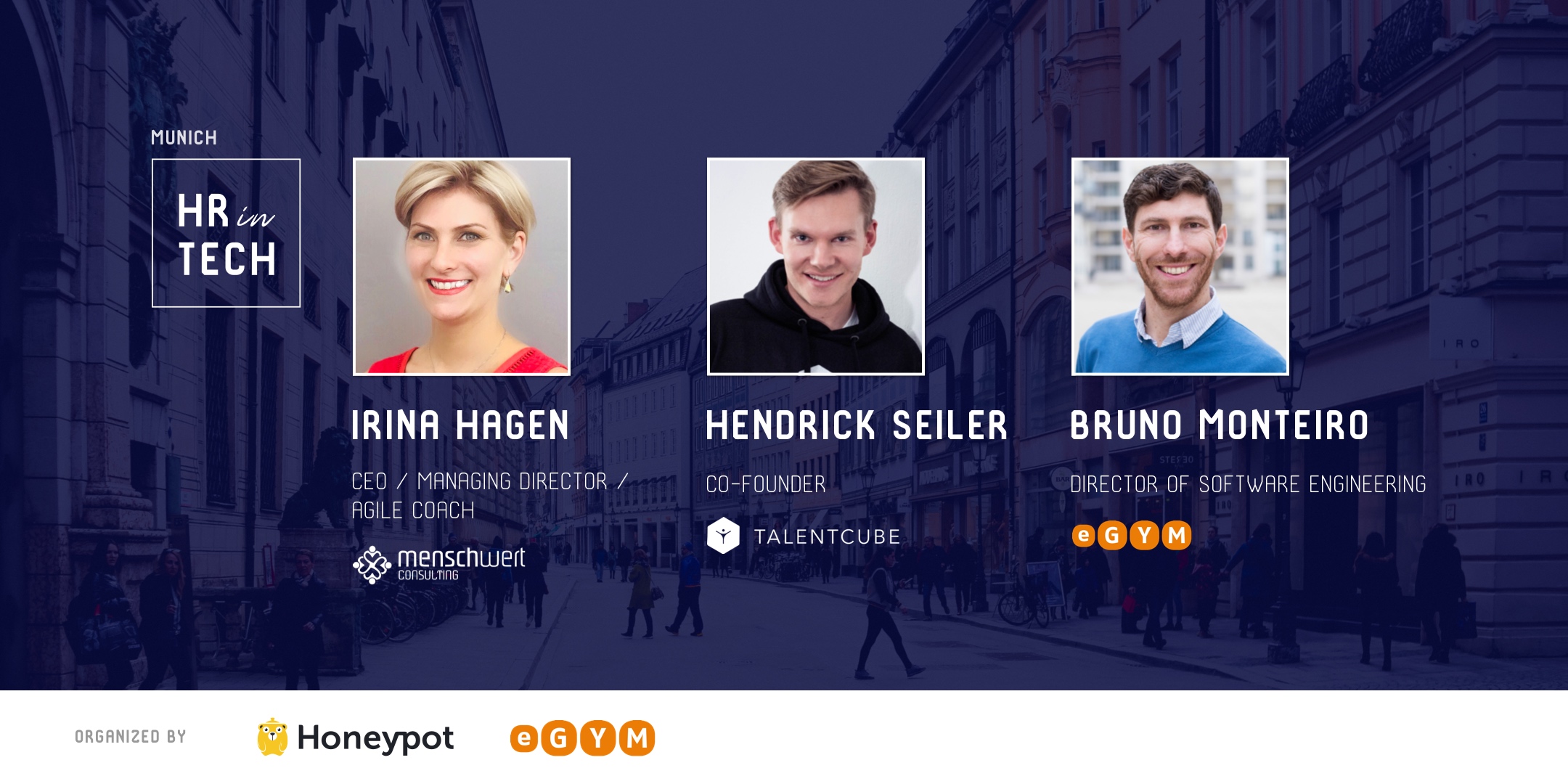 ---
Über HRinTech
HRinTech ist eine Bildungsreihe, die sich an HR-ler richtet, die Engineering- und Tech-Teams aufbauen. Die Reihe wurde von Honeypot, der entwicklerorientierten Jobplattform, organisiert und fand bereits in Berlin, Hamburg, München, London und Amsterdam mit Partnern wie Zalando, Uber, Booking.com, TransferWise, Backbase und anderen statt.
Begleitet Honeypot, Europas größte Jobplattform für Entwickler, im nächsten Kapitel unserer HRinTech-Serie.

*** Unsere Mission mit dieser Veranstaltung ist die Förderung von Networking und Austausch zwischen Talent Acquisition und HR-Profis, bitte keine Dienstleister! ***
Du hast Fragen zu HRinTech: Candidate Experience? Meldet dich gerne bei Honeypot :)
---
English version below
---
Market leaders recognize that attracting highly qualified specialists and keeping them engaged throughout the candidate journey requires innovative and modern practices from their company. Knowing which candidate experience strategy will work for your company is crucial. Honeypot has organized the next HRinTech series to feature top experts on this topic.
Curious as to how other companies create candidate experiences and excited about the prospect of networking with other recruiters and HR managers?

You're cordially invited to come to the eGym Office in the old Bavarian State Bank on November 28th, at 6:30pm!
Food & refreshments included, courtesy of eGym!
Presentations in English!
---
Schedule:
6:30 pm: Doors open, drinks and food
7:00 pm: Bruno Monteiro, Director of Software Engineering at eGym
7.30 pm: Hendrik Seiler, Co-founder of Talentcube
8:00 pm: Interactive panel discussion with Irina Hagen, Hendrik Seiler & Bruno Monteiro
8:30 pm: Drinks and networking
---
About HRinTech
HRinTech is an educational series focused on HR people building engineering and tech teams. Organized by Honeypot, the developer-focused job platform, the series has taken place in Berlin, Hamburg, Munich, London, and Amsterdam, with partners such as Zalando, Uber, Booking.com, TransferWise, Backbase, and others. Join Honeypot, Europe's largest developer job platform, in the next chapter of our HRinTech series.
*** Our mission with this event is to encourage networking and peer exchange between Talent Acquisition / HR professionals, please no service providers! ***
Have questions about HRinTech: Candidate Experience? Get in touch with Honeypot :)