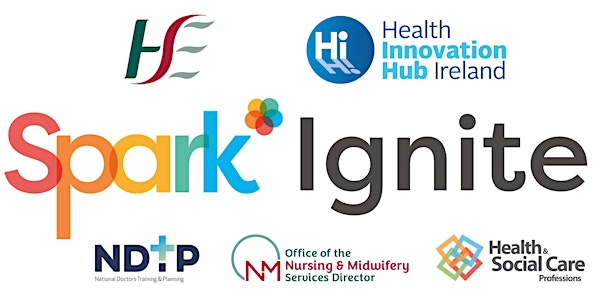 HSE-HIHI Spark Ignite 2021 Dublin Final
HSE- HIHI Spark Ignite 2021 Dublin Regional Final
About this event
The HSE- HIHI Spark Ignite competition is the only staff-facing, bottom up, innovation competition available to the 115,000+ HSE employees. Its mission is to enable HSE staff to validate unmet needs in healthcare, determine if a market or need exists for their proposed solution, product, or service to meet that need, and to support the further development of those ideas.
This year over 180 applicants submitted their ideas for review to win a spot on a mini-accelerator course. From this 36 finalists were chosen in total from Cork, Dublin and Galway. These finalists were brought through this process of developing their pitch for their idea.
Now, each of the finalists has to pitch in front of an experienced panel of judges in their region.
The winners will receive funding to develop their ideas and will receive on-going mentorship from HIHI.

Meet the Dublin Finalists
Dr Edmond Power, Dr Sarah Taaffe and Prof. Farhana Sharif- "Box of Happiness" Resource Tool Kit for Children
Dr Kiran Santlal - The Development of a Specialised Service to Manage the Physical, Psychological & Social Harms Associated with Chemsex, and the Integration of Affiliated Services
Prof. Norman Delanty, Dr Gianpiero Cavalleri and Dr Katherine Benson and Dr Aoife Gallagher - Genetic Evaluation and Testing System – an Irish Genetics Resource Company
Sarah Louise Killeen and Prof. Fionnuala McAuliffe - The FIGO Nutrition Checklist - the first step in pregnancy nutrition
Clodagh Rooney and Loretta Ratcliffe - Targeted Health Care Solutions - IUse App
Patrick Healy and Dermot McDonnell - Sleepycubs...babies second skin, but your first response
Muthukumaran Thangaramanujam - The Anatomical Foot – A patient-specific, 3D-printed, prosthetic foot
Valerie Ball and Aideen O'Connor - 'The Conformable ' vacuum humeral bracing system
Eleanor Campbell - Electronic Patient Identification in the Acute Setting
Mr Ramy Khojaly - A Novel Ankle Range of Motion (ROM) measuring device
Eileen Nolan, Fiona O'Loughlin, Teresa Slevin , Tony Stringer, Prof. Owen Smith, Dr Jane Pears, Sean Rooney, Blake Whitfield, Fiona Bonas, Marie Lalor, Karen Wynne, Emer Handy, Connie Crehan and Irene McDonnell - Integration of Children's Cancer Laboratory Results on line via Healthlink