Description
Join us for a C.E. Event on
"Human Trafficking at Your Center"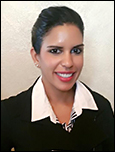 Presented by Yaroslaba Garcia, M.S., LMHC
About the Speaker: Yaroslaba Garcia has a master's degree in clinical psychology. She is a Licensed Mental Health Counselor and currently working on her Ph.D in cognitive psychology. She is currently the clinical director at Abuse Counseling and Treatment. Garcia is also the president of the Southwest Florida Regional Human Trafficking Coalition. Since she started to chair the Regional Coalition, she has assisted the coalition and other agencies in founding, creating and starting programs to improve and increase awareness and identification of human trafficking among law enforcement agencies and the community. In addition, Garcia treats and works with human trafficking victims every day.
Course Abstract: While human trafficking tends to be hidden crime, victims often interact with professional health care workers and other service providers. The challenge is that many of these service providers are unaware that they are interacting or serving persons who have been trafficked and forced into commercial sexual exploitation or forced labor. According to several recent studies, health care providers are "first responders" who are most likely to encounter trafficked persons. Because health care providers play a vital role in identifying victims, it is critical that they have training in the indicators of human trafficking and know how to respond appropriately.
Course Objectives:
At the conclusion of the workshop, the attendee will be able to:
• Discuss human trafficking and what it looks like
• Identify a person who is being trafficked or has survived trafficking
• Recognize and respond appropriately to persons who have been trafficked

Event Schedule:
1:00 p.m. - 1:30 p.m.: Registration
1:30 p.m. - 2:30 p.m.: Presentation


For additional information, please contact
Keith Vautherot | k.vautherot@sovhealth.com | 949-426-2939
---

Continuing Education is approved by:

National Association for Alcoholism and Drug Abuse Counselors (NAADAC) No. 130835 for ( 1 ) Contact Hour.

Sovereign Health Group has been approved by NBCC as an Approved Continuing Education Provider, ACEP No. 6752 for ( 1 ) Contact Hour. Programs that do not qualify for NBCC credit are clearly identified. Sovereign Health Group is solely responsible for all aspects of the programs.

Please check with your respective boards for their acceptance of these credits.

Queries regarding CE Certificate can be addressed to Rupa Bhattacharya at 888-889-1157, ext. 704 or r.bhattacharya@sovheath.com.

ADA accommodations: If you require ADA accommodations, please contact our office at least 7 days in advance of the event so that we can ensure accommodations are made.

There is no commercial support for this program nor are there any relationships between the CE Sponsor, presenting organization, presenter, program content, research, grants or other funding that could reasonably be construed as conflicts of interest.