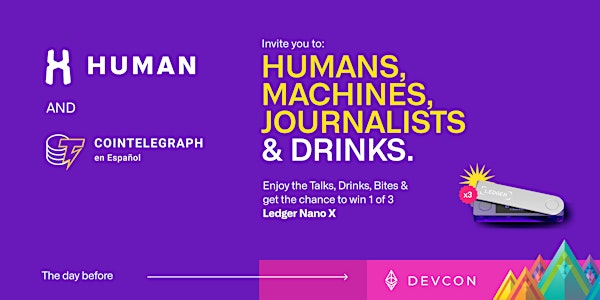 HUMANS, MACHINES, JOURNALISTS & DRINKS
Meet the HUMAN Protocol team & CoinTelegraph en Español for an exclusive event to get ready for Devcon.
When and where
Location
Black Tower Premium Hotel Bogota Corferias 43a-21 Avenida La Esperanza Bogota, Cundinamarca 111321 Colombia
About this event
Hi HUMANS,
As part of our contribution to DEVCON, you are invited to our first HUMAN Protocol meetup in collaboration with CoinTelegraphen Español, on Monday 10th October(the day before the main event), from 6 pm to 8 pm at Black Tower Hotel, which is a stone's throw from Agora Bogotá Convention Center, the Main Event location.
To begin, Fernando Quiros, Managing Editor at CoinTelegraph en Español, will be our guest and share with you the insight of journalism and communication in the blockchain field:
What can communication bring to the world of blockchain technology and cryptocurrencies?
- Importance of specialized media
- Tips to improve companies' communication
- Companies, communication agencies and media relations
Then, Will Mercer, Grant Lead at HUMAN Protocol will be delighted to answer Fernando's questions about HUMAN Protocol to get to know better how this works and how anyone can launch a job and tap into this global workforce.
Human data annotation with a click of a button to drive machine learning, is a tried and tested way to connect workers from all around the world to the Web3 economy, where they can benefit from regenerative finance directly. HUMAN is a not-for-profit organization. Our impact work aims at facilitating technology transfer from academic research to industry and creating new revenue streams for open source projects.
Enjoy the Talks, Drinks, Bites & get the chances to win 1 of 3 Ledger Nano X!
- The HUMAN Protocol has already brought half a million workers around the world to the Web3 gig economy. With the new decentralized Routing Protocol, anyone can earn by contributing to the ecosystem or by solving jobs to build the future of work together. Start earning, and collaborate today!
Cointelegraph en Español is the most widely read Spanish-language media about cryptocurrencies and blockchain technology. Among other things, it offers information on news, market tools, interviews to ecosystem referents, cryptocurrency price analysis and details on different technologies. -
---------
Como parte de nuestra contribución a la DEVCON, te invitamos a nuestro meetup de HUMAN Protocol en colaboración con Cointelegraph en Español, el lunes 10 de octubre (el día antes del evento principal), de 18:00 a 20:00 horas, en el Hotel Black Tower, que está a un paso del Centro de Convenciones Ágora Bogotá, lugar del evento principal.
Para empezar, Fernando Quirós, editor jefe de Cointelegraph en Español, será nuestro invitado y compartirá con ustedes la visión del periodismo y la comunicación en el ámbito del blockchain:
¿Qué puede aportar la comunicación al mundo de la tecnología blockchain y las criptomonedas?
- Importancia de los medios especializados
- Consejos para mejorar la comunicación de las empresas
- Empresas, agencias de comunicación y relaciones con los medios
A continuación, Will Mercer, Grant Lead en HUMAN Protocol estará encantado de responder a las preguntas de Fernando sobre HUMAN Protocol para conocer mejor cómo funciona y cómo cualquiera puede lanzarse a trabajar y aprovechar esta fuerza de trabajo global.
La anotación de datos humanos con un clic de botón para impulsar el aprendizaje automático, es una forma probada de conectar a los trabajadores de todo el mundo con la economía Web3, donde pueden beneficiarse de la financiación regenerativa directamente. HUMAN es una organización sin ánimo de lucro. Nuestro trabajo de impacto tiene como objetivo facilitar la transferencia de tecnología de la investigación académica a la industria y crear nuevas fuentes de ingresos para los proyectos de código abierto.
!Disfruta de las charlas, las bebidas, los bocadillos y obtén la oportunidad de ganar 1 de los 3 Ledger Nano X!
El Protocolo HUMAN ya ha llevado a medio millón de trabajadores de todo el mundo a la economía gigas de la Web3. Con el nuevo Routing Protocol descentralizado, cualquiera puede ganar contribuyendo al ecosistema o resolviendo trabajos para construir juntos el futuro del trabajo. ¡Empieza a ganar y colabora hoy mismo!
Cointelegraph en Español es el medio de comunicación más leído de habla hispana, sobre criptomonedas y tecnología blockchain. Entre otras cosas, ofrece información sobre noticias, herramientas de mercado, entrevistas a referentes del ecosistema, análisis del precio de las criptodivisas y detalles sobre diferentes tecnologías.