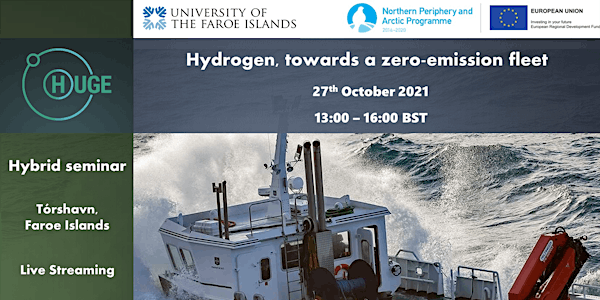 Hydrogen, Towards a Zero-Emission Fleet
The seminar will discuss the scope for developing zero-emission work boats for the near shore area and an initial business case for hydrogen
About this event
The HUGE project is hosting a hybrid seminar on zero-emission work boats on 27 October 2021. The event will be held in-person at the University of the Faroe Islands and will be live-streamed on the HUGE YouTube channel.
The transition from fossil fuels to zero-emission fuels in the marine sector is a challenging task. Whilst onshore development of renewable energy sources and full electrification of the energy sector is taking place, other solutions have to be developed for the marine sector.

Electric boats and ferries are being developed but for more extensive activities we are looking at hydrogen-based fuels-pressurized hydrogen, cryogenic hydrogen or ammonia. The Faroe Islands are electrically isolated - i.e. no power connections to neighbouring countries. With increasing amounts of intermittent renewable energy sources, especially wind energy, solutions must be found to store energy and stabilize the power system. By production of green hydrogen from surplus wind energy, the electrolyser, in addition to producing hydrogen, can also deliver system services to the powergrid.
Agenda (BST)
13:00 - 13:10: Welcome & HUGE Introduction; Desislava Todorova, HUGE Project Coordinator
13:10 - 13:25: Hydrogen for North Sea ports and harbours; Jon Jordan, NS HyMAP
13:25 - 13:40: Energy transition on the Faroes – status and future; Kári Mortensen, Dept. Head, Faroese Environment Agency
13:40 - 13:55: From oil to renewable energy – challenges and opportunities; Janus Thomsen, CEO, Effo
13:55 - 14:15: Coffee and Networking
14:15 - 14:30: Burðardygt Vinnulív - The power of collaboration; Ana Holden Peters, Sustainability consultant
14:30 - 14:45: Constructing the first Faroese zero-emission aquaculture workboat; Richard Mortensen, Head of Sales and Procurement, MEST
14:45 - 15:30: HOT Service – Faroese case study overview; TEA & HUB Application to Faroese Case study
15:30 - 16:00: Q&A and Closing Remarks

About the Speakers
Kári Mortensen
Dept. Head, Faroese Environment Agency

Cand. Scient in Biochemistry and Mathematics from the University of Copenhagen and Odense. Marine and environment research and education at High School and University. Since 2007 working with green energy transition in Faroe Islands. Last 5 years as leader of the energy department at Umhvørvisstovan.
Janus Thomsen
CEO, Effo

CEO of the oil distribution company EFFO and member of the board in the Wind Energy Company RØKT. Janus is holding a Master degree in Business administration from Copenhagen Business School and has served in different managerial positions within banking and insurance on the Faroe Islands.
Ana Holden Peters
Sustainability Consultant
Leading the Burðardygt Vinnulív initiative, a network of 12 businesses operating in the Faroe Islands who are working on UN Sustainable Development Goals to address climate change, biodiversity loss and ocean health. Ana holds an MSc. in Management from the University of Bath and a Post Graduate Certificate in Sustainable Business from CISL, Cambridge University. Prior to setting up this project, she has held roles in corporate sustainability for 12 years - at Bakkafrost, TUI Travel, the Royal Bank of Scotland and the John Lewis Partnership.
Richard M. Mortensen
Sales and Procurement Manager at MEST Shipyard

Richard joined MEST Group in 2015 and is a part of the management team. Prior to MEST, Richard worked with the Faroese IT company Elektron and Faroese Telecom. Richard is has a master degree in Business Administration (Cand.Merc.) in 1988 from Copenhagen Business School (CBS) and has during the 80'and 90's worked in London and Copenhagen as Management Consultant and Partner with PA Consulting Group.