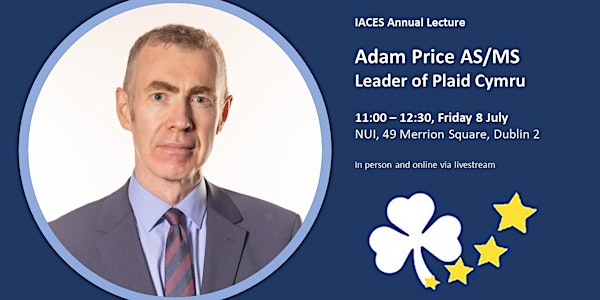 IACES Annual Lecture | Adam Price AS/MS, Leader of Plaid Cymru
This year's hybrid IACES Annual Lecture will be delivered by Adam Price, Leader of Plaid Cymru. Register to attend in person or online.
About this event
**This is a hybrid event. You can register via this Eventbrite to attend the lecture in person or remotely, via livestream.**
IACES Annual Lecture
Adam Price AS/MS
Leader of Plaid Cymru
11:00 - 12:30, Friday 8 July
NUI, 49 Merrion Square, Dublin 2
Filling the Void: Scotland, Ireland, Wales and the Future of European Democracy
In this year's IACES Annual Lecture, inspired by and seeking to respond to the challenge laid down in the late Peter Mair's Ruling the Void: the Hollowing of Western Democracy, Adam Price will explore whether and how political parties can be laboratories for democratic renewal. He will examine, in particular, the role of and relationship between the leading nationalist forces in Scotland, Ireland and Wales - the SNP, Sinn Féin and Plaid Cymru - arguing that their campaigns for democratic self-government provide an opportunity to demonstrate how the failings of western democracy can be addressed. The European dimension to these campaigns will also be explored.
Adam Price was elected Leader of Plaid Cymru in 2018. He has served as the Member of the Senedd (MS) for Carmarthen East and Dinefwr since 2016, having previously sat as the Member of Parliament (MP) for the same constituency from 2001 to 2010. In Parliament, he served on the Culture, Media and Sport Committee, was Plaid Cymru's spokesperson for Treasury, Business, Innovation and Skills, and was a vocal and outspoken opponent of the Iraq War. He was born in Carmarthen into a miner's family and was educated at Ysgol Dyffryn Aman and Cardiff University, where he graduated with a BSc (Econ). He holds a Masters in Public Administration from Harvard, and was a Fellow at the Centre for International Development at Harvard's John F. Kennedy School of Government.